Strategic Instruction Model (SIM™)
Comprehensive, evidence-based instructional tools and programs that empower teachers and enable students to better succeed in school and beyond.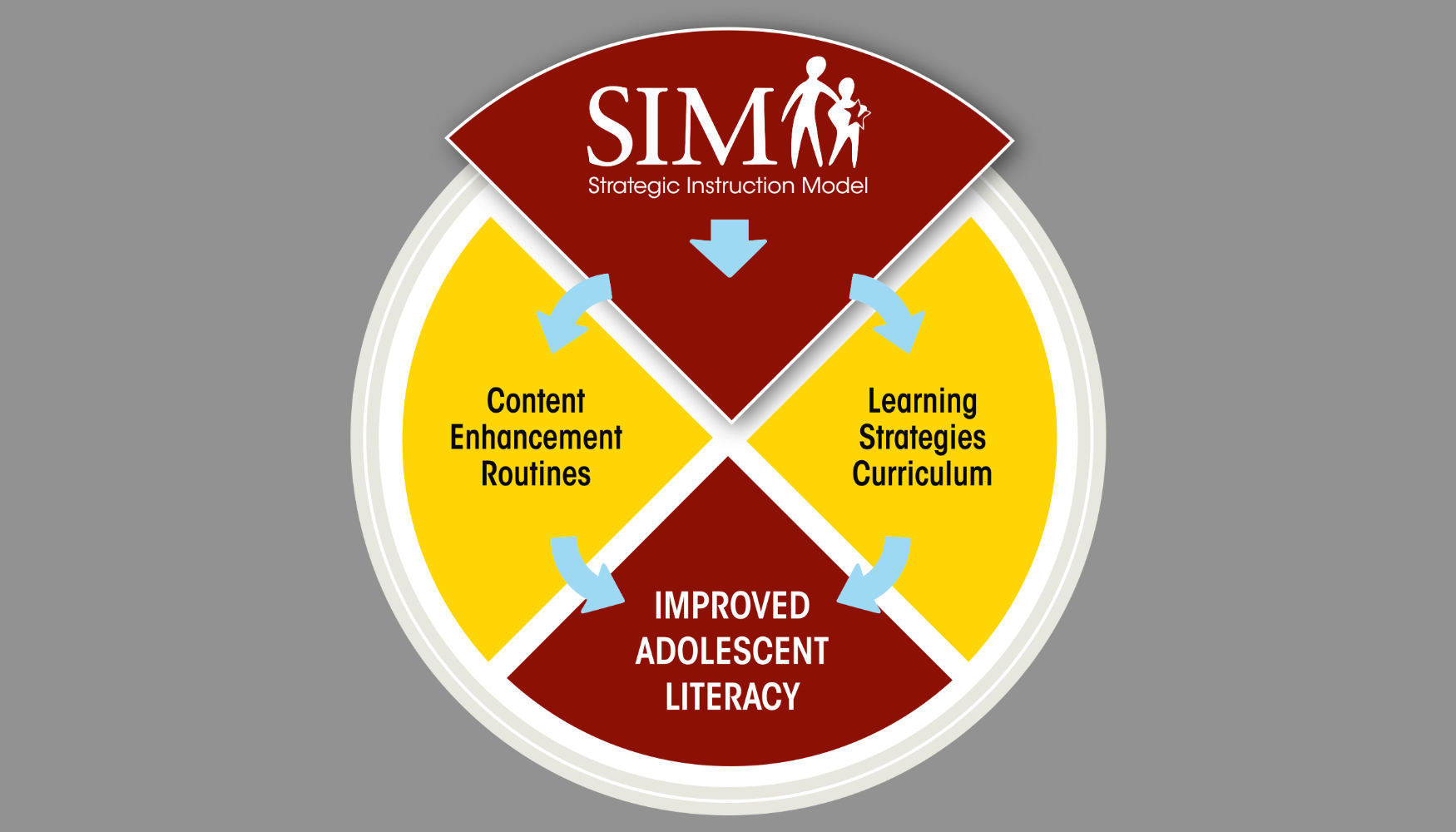 What: Instructional Tools and interventions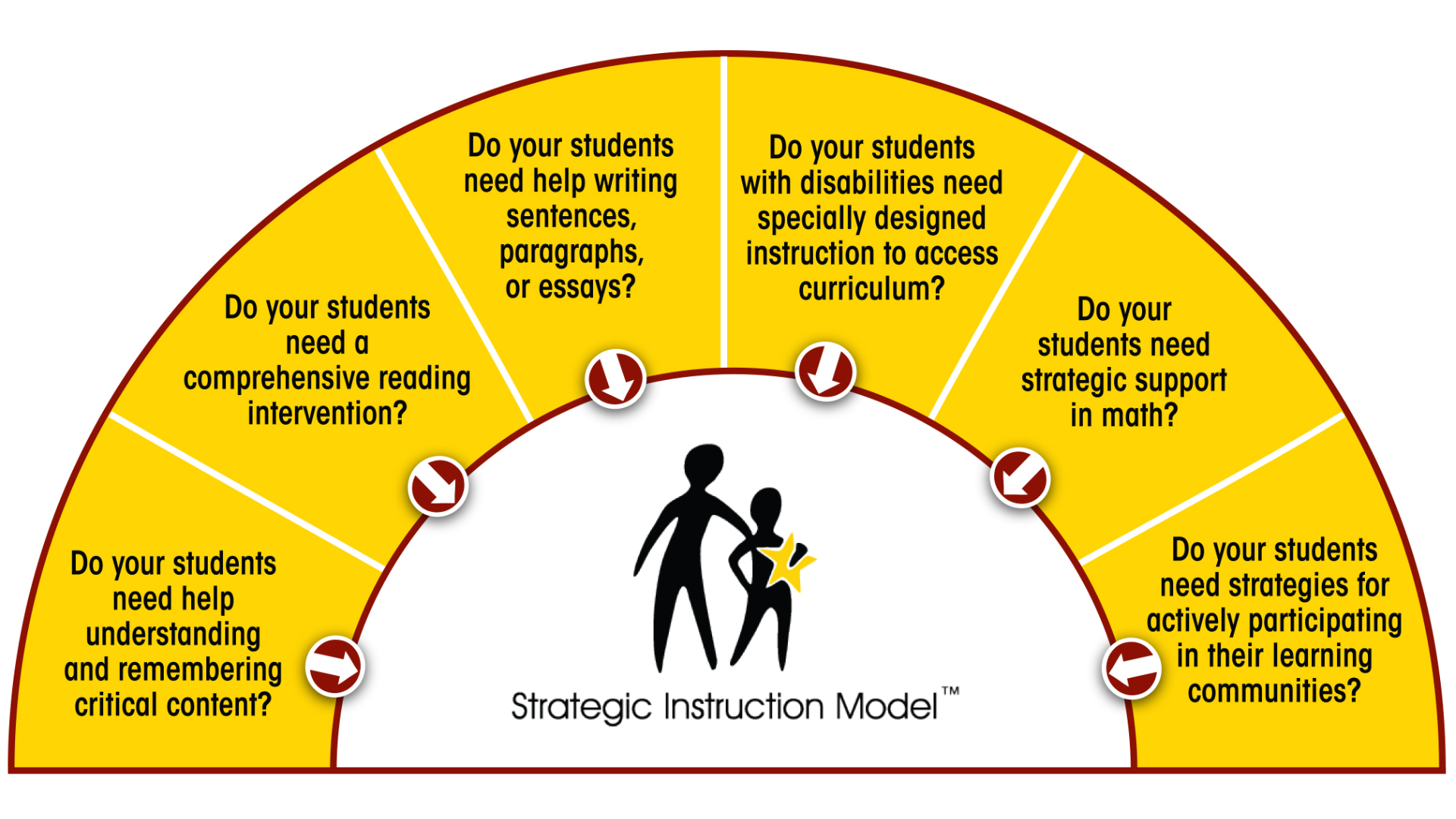 Why: Impact
SIM has been improving the lives of teachers and learners since 1978. Find out some of the ways in which our work has changed lives for the better.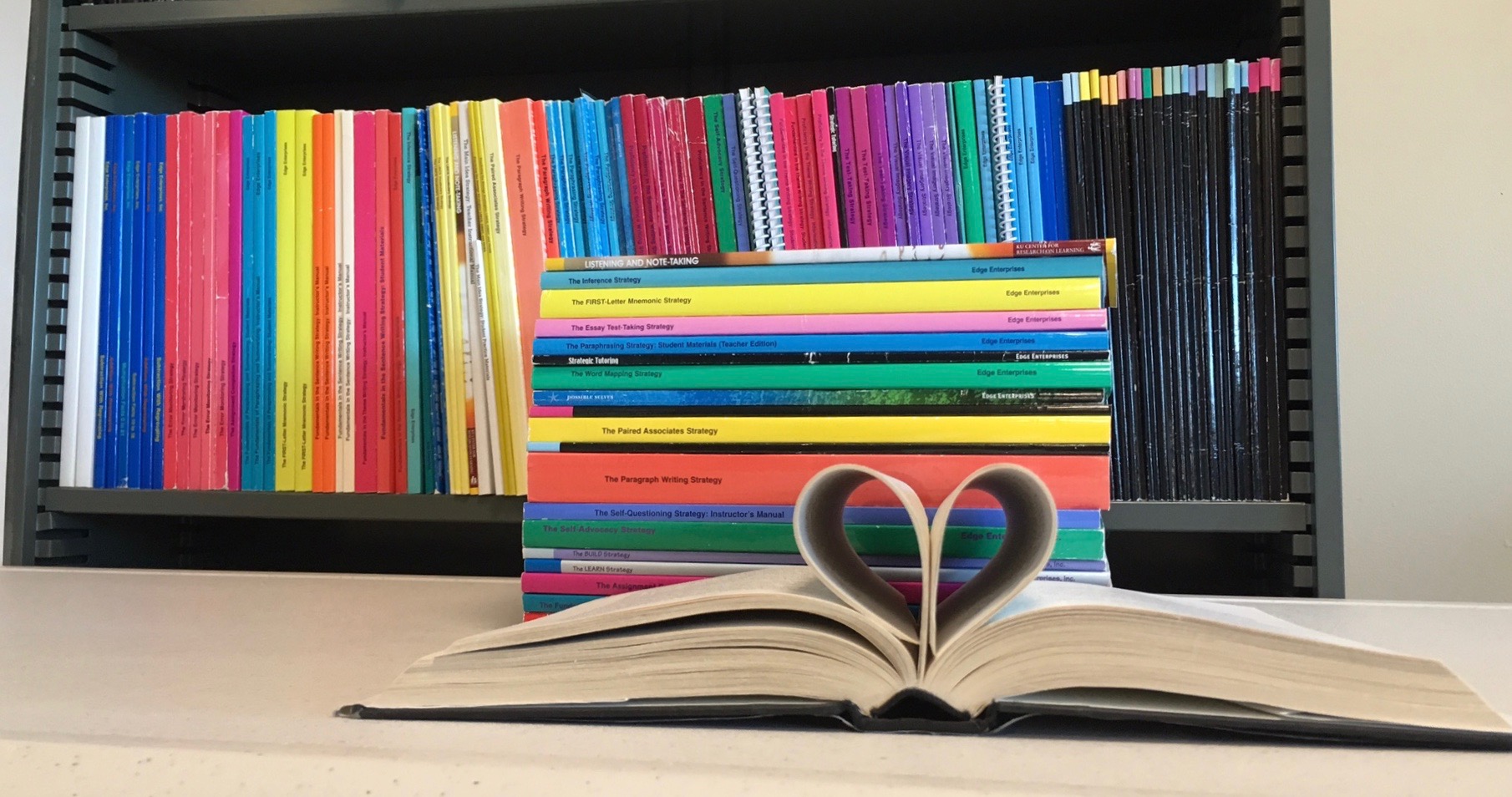 How: Access SIM
We're happy you're here. Whether you're a parent, teacher, or administrator, we can help you find the SIM solution that best fits your needs.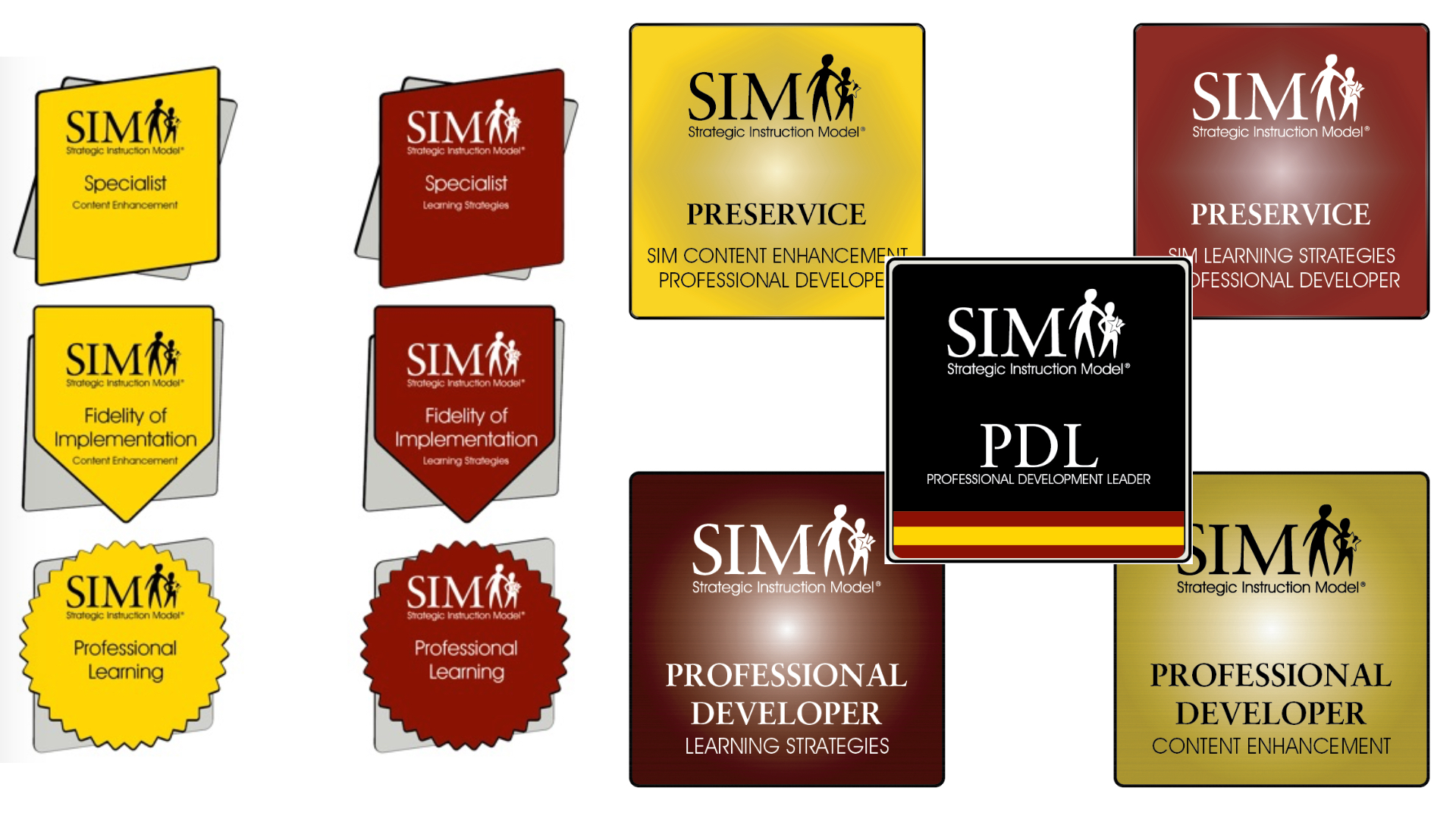 SIM Credentials
SIM micro-credentials put your knowledge on display. Micro-credentials, commonly known as badges, recognize your investment in professional learning and your dedication to giving your students the evidence-based interventions and tools that can make a difference in their lives.

SIM Events
Visit the SIM Events page for news on all upcoming events, conferences, webinars, online professional development, and more.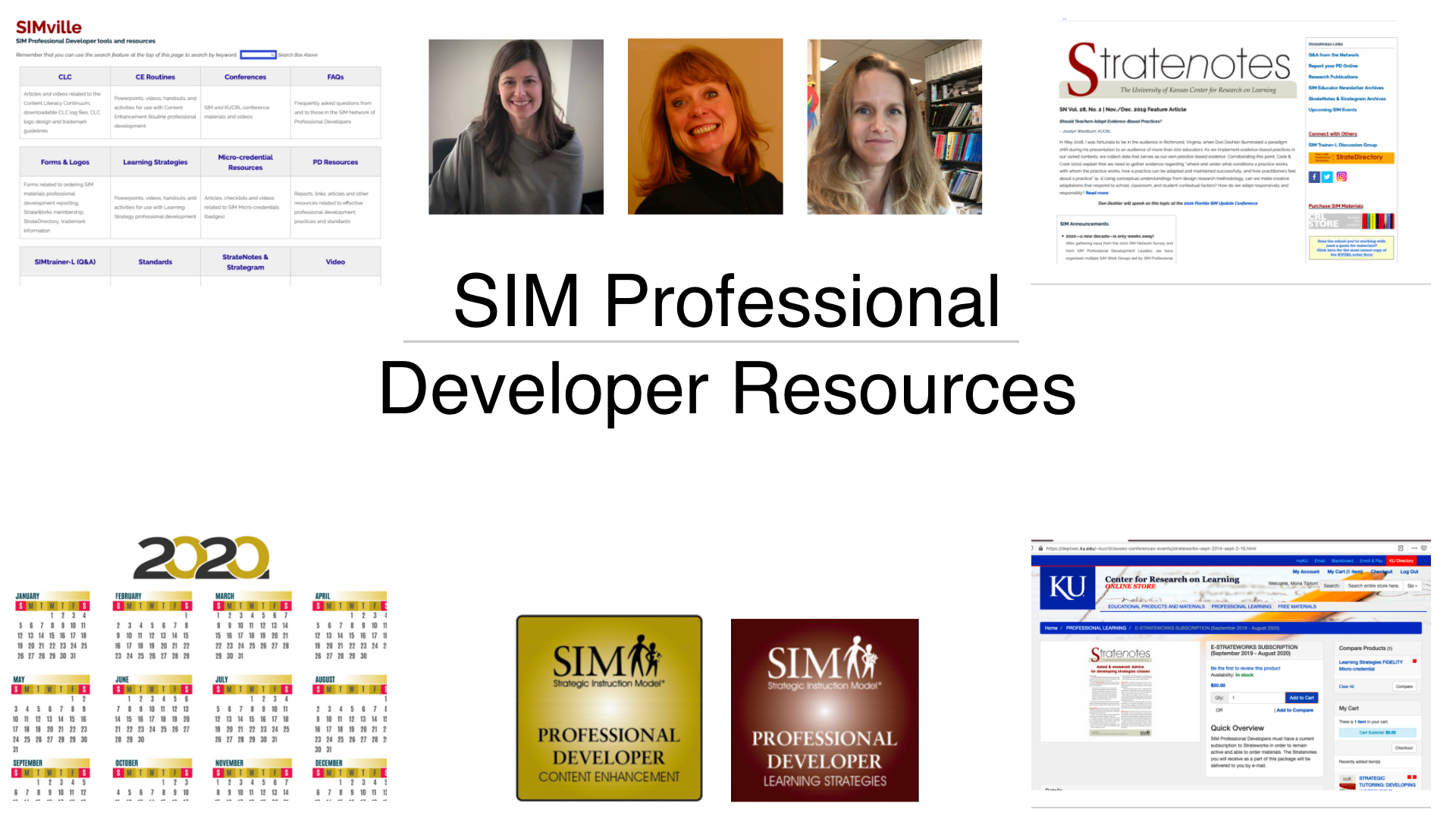 SIM Professional Developer Resources
Resources and Links for SIM Professional Developers
What People are Saying About our Materials and Services
Read these testimonials from individuals who have implemented SIM.
What's Happening with SIM
News
November 2023 - New SIM StoryCorps: Becoming a Better Teacher with SIM - https://sim.ku.edu/sim-storycorps

September 2023 - Check out the Fall SIM Educator Newsletter at: https://sim.ku.edu/sim-forum

July 2023 - New article from CRL Researchers Jocelyn Washburn and Suzanne Myers. Adolescents' perspectives about their connective and digital literacies skills. Journal of Adolescent & Adult Literacy. http://doi.org/10.1002/jaal.1300

June 2023 - SIM Strategies are featured in a new book from Susanne Croasdaile and Samantha Layne. Building Executive Function and Motivation in the Middle Grades: A Universal Design for Learning Approach

May 2023 - New SIM Forum article: Using the Decision-Making Routine for IEP and Post-Secondary Goal Development, Darren Minarik - https://sim.ku.edu/sim-forum

April 2023 - Florida Project Makes a Big Impact in School Participation and Adolescent Reading (from OSEP's April 2023 Update) - Florida SPDG supports the Strategic Instruction Model (SIM). In schools at the initial or full implementation stages of SIM, 90% of students who participated in the reading intervention showed progress or met the grade-level reading target. This was 20% greater than the target set.

April 2023 - New SIM Forum article: Higher Order Thinking and Reasoning (HOTR) Routines Support Rigor, Craig Wisniewski - https://sim.ku.edu/sim-forum
Events
SIM Online Class: The Framing Routine
SIM Online Class: Fundamentals of Paraphrasing and Summarizing Strategy
SIM Online Class: Possible Selves Strategy
SIM Online Class: Sentence Writing Strategies (Fundamentals and Proficiency)
SIM Online Class: Unit Organizer Routine

SIM Update Conference: Jan - Feb, 2024 Winter Virtual SIM Update Conference

SIM Online Course:Feb. - Mar., 2024 - Adolescent Literacy Leadership Course
Why SIM
-SIM provides students with tools to solve problems independently.
-SIM emphasizes teaching routines that allow teachers to organize and present curriculum content in straightforward, easy-to-learn ways.

Our research confirms that quality teaching materials greatly enhance teachers' ability to provide quality instruction in their classrooms. Our long-standing commitment to and investment in developing these instructional supports—teacher manuals, student learning sheets, scoring rubrics, and technology supports—underscore the importance we place on this aspect of our work. For more than 40 years, we have worked directly with classroom teachers to develop materials that improve the learning experience for students and the teaching experience for teachers. As a result, we have the research, success stories, and the proven track record to help school succeed in meeting the needs of their students.