Access SIM
For more than 40 years, we have worked directly with classroom teachers to develop materials that improve the learning experience for students and the teaching experience for teachers. As a result, we have the research, success stories, and proven track record to help schools succeed in meeting the needs of their students.
SIM for Teachers

SIM Teachers

SIM for Administrators

SIM Administrators
SIM for Parents

SIM Parents

SIM Credentials and Micro-Credentials

Micro-credentials support local capacity building, shared leadership responsibilities, and sustainability.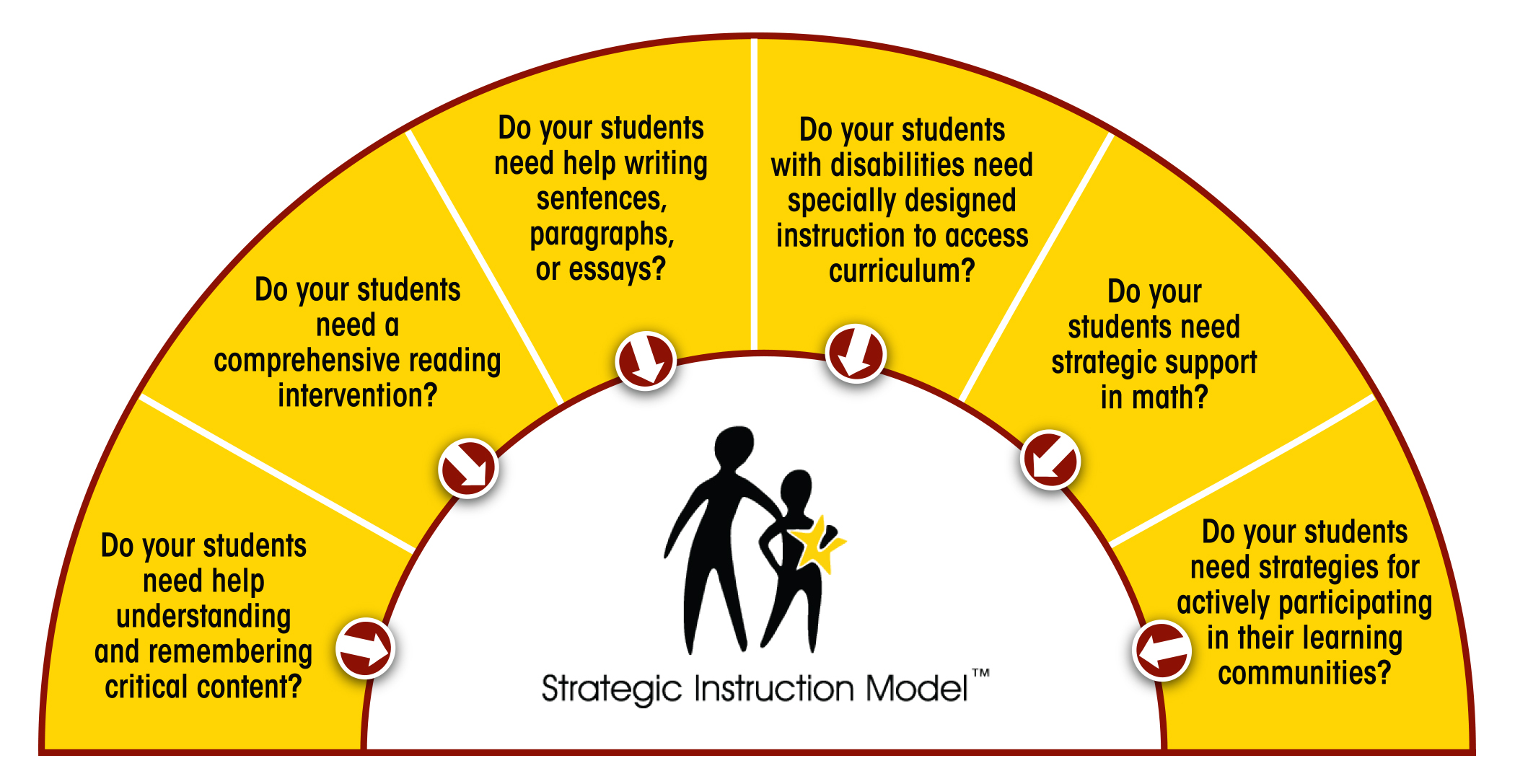 Selecting the Right SIM for You
Because the Strategic Instruction Model (SIM) is a comprehensive approach with numerous evidence-based instructional tools and interventions, it is critical to consider current school-wide and student data, infrastructure, and practices to determine how and which aspects of SIM will be implemented.
SIM Professional Developers have access to several tools to help educators make selections and are available to partner with school teams to use these resources.
Initial Exploration and Planning Questions
A Planning Guide for a Coordinated Approach to Implementation
Adaptive, Supportive, and Comprehensive Professional Learning
KUCRL is committed to finding solutions to educational challenges and placing our research findings into the hands of practitioners, students, and other researchers in the field. Our expansive network of dedicated professionals—the SIM International Professional Development Network—who share our values and goals for delivering high-quality professional learning with a partnership approach to educators around the world. These experts offer professional development, instructional coaching, and technical assistance to establish the necessary infrastructure support for educators to implement evidence-based practices. Professional learning may be facilitated face-to-face, online, or a blended of both, depending on school preference.
KUCRL's Adaptive Professional Learning Model is grounded in Partnership Principles (Knight, 2007) and incorporates evidence-based practices for (a) professional development, (b) instructional coaching, and (c) infrastructure support.
 The word "adaptive" in the APLM is about…
complex change,
meeting schools and teachers where they are,
providing flexible options to fit school and classroom context, and
making instructional adjustments to meet student needs.
Implementation Options
Sometimes individual teachers request professional learning in a specific LS, CER, or reading program. More often, a school or district decision-maker requests professional learning for a department or team within a school or district (e.g., English department, special education department, grade level team) or for an entire school or district. As another example, educational support centers (e.g., Regional Cooperatives, Training & Technical Assistance Centers) request professional learning for teachers, schools, and districts in their region to be delivered initially by SIM Professional Developers and later by the support center staff as they build local capacity with SIM. As a final example, schools or districts with grant-funded initiatives to improve literacy will include SIM within their plans to achieve their grant goals.  Please note that instructor and student materials are purchased separately from access to high-quality professional learning, contact us for a conversation about cost.
An accessible version of the documents on this site will be made available upon request. Please contact the KU CRL Professional Development Research Institute, at simpd@ku.edu to request the document be made available in an accessible format.