Certification Process for Prospective Strategic Instruction Model (SIM™) Professional Developers
---

Content Literacy Leadership Institute for Prospective SIM Professional Developers
A pivotal experience in the process to become a SIM Professional Developer
Important Dates:
Q&A: Watch the 2021 Q&A Session recording
Intent to Apply  Due: February 1, 2023
Application Due: March 1, 2023
Notification of Acceptance: April 1, 2023
Institute Dates: Five 3-hour online synchronous sessions in the window of June-October (note: approximately 3-hours of asynchronous pre-work per live session will be required)
---
KUCRL will offer both the Content Enhancement Routine and Learning Strategy strands of the Content Literacy Leadership Institute (CLLI) for prospective Strategic Instruction Model (SIM™) Professional Developers from June to October.  The institute will include a combination of asynchronous and live synchronous online activities equating to a week-long program. This virtual leadership institute will be led by SIM Professional Development Leaders and their apprentices from around the United States. The two institute strands will be conducted simultaneously and will use breakout sessions to personalize the institute experience based on background knowledge and experience. The unifying framework for the institute is literacy leadership in all content areas and professional learningprinciples. Participants focus on one strand (CE or LS) during the institute, and if desired, can follow-up in successive years with the other certification.
CCLI will prepare educators who have implemented either Content Enhancement Routines or Learning Strategies to teach other educators how to implement, and how to become literacy leaders within their school and district/division.  Instruction in the use of specific CER and LS will not be a part of CLLI, the focus will be on professional learning and literacy leadership..
Eligible Applicants:
(a) are experienced implementers of SIM, who have previously received professional development in Content Enhancement Routines and/or Learning Strategies and may or may not have earned micro-credentials on Badgelist.com,
(b) have the interpersonal skills to become a professional developer,
(c) have effective communication skills in teaching and working with adults, and
(d) have administrative support for their participation in on-going professional growth.
Participation Expenses: $1300/person   Applicants may be able to seek funding support locally from grant sources or their school/district. This fee includes institute materials and resources necessary for preparing and delivering professional development in SIM and two-year access to STRATEWORKS, a service provided by KUCRL for the SIM network of professional developers. Another expense may include purchasing additional guidebooks or manuals to expand your professional developer set. We encourage you to build your personal library.  To help you to do so, we're extending 40% off of the purchase price for the first copy of any materials you buy as part of this institute. You may also add on access to a dedicated SIM Mentor for the apprenticeship experience for $300. Upon acceptance to the institute, payment will be requested and may be paid in one sum or in agree-upon portions.  Please contact us at simpd@ku.edu if you need to discuss alternative payments because of your funding source.
Application Submission: Part of the certification process entails developing a portfolio. Pre-institute requirements are described below.
To apply:
   Submit an Intent to Apply form (non-binding) to inform KUCRL that you will be working on your pre-institute portfolio/application. Once we are notified, we will send potential applicants additional instructions related to the online submission through the micro-credentialing platform, BadgeList and provide technical support to prepare and submit your application. We will also invite you to a private Google folder that is only shared with institute application reviewers and the applicant.
Create an account on BadgeList.  Applicants for the institute are asked to indicate the institute strand for which they have been preparing by selecting the appropriate badge. Click Join this badge for either LS PD Institute or CER PD Institute.
--OR--
From here, applicants will be able to upload pre-institute portfolio evidence (more details are provided below), including answers to several important application questions.
Please don't hesitate to email simpd@ku.edu to request assistance with application submission and to notify us if you need more time to complete the application requirements.
Note to applicants who have earned Fidelity of Implementation Micro-credential(s): If any of your application items are already housed on BadgeList.com, you may provide the hyperlink to fulfill the specific application requirement. Examples include videos of classroom instruction and teacher and/or student CER devices.
Note to applicants who have earned SIM Specialist Micro-credential(s): The post-institute requirements differ from those who have not earned this micro-credential. See Apprenticeship Requirements for more details.
Pathways Infographic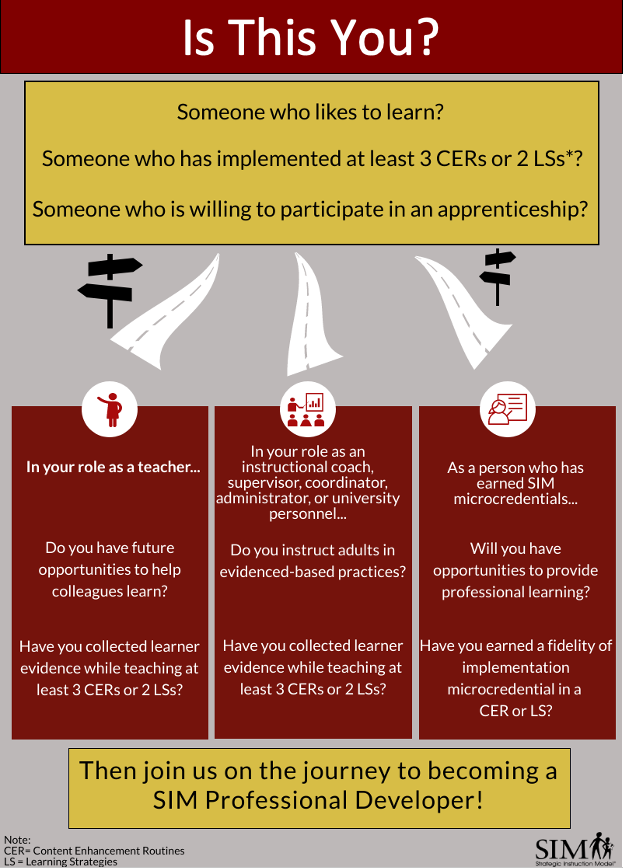 Post-Institute Apprenticeship Expectations: Following the institute, you will be asked to submit post-institute documentation. Apprentices will need a SIM Professional Developer as their SIM Mentor while completing post-institute tasks.With guidance from an institute instructor(s) and support from a SIM Mentor, apprentices will complete a set of tasks to show skills and competencies embodied in a SIM Professional Developer. These tasks typically take 1-2 years to complete. We highly encourage apprentices to complete these requirements within two years to maintain momentum in the process.
Once you become a certified SIM Professional Developer, there are benefits and expectations to maintaining active status.
Click here to read the answers to some Frequently Asked Questions about the process to becoming certified as a SIM Professional Developer.