Vitual Professional Learning
The Executive Functioning Series
The LINCs Vocabulary Strategy, August 16, 2022, 3-6 pm EST
(this session has been cancelled due to low enrollment)
The Word Mapping Strategy, Sept. 19 & 22, 2022, 3-6 pm EST (this is a two-part session)
FIRST-Letter Mnemonic Strategy, Oct. 18 & 20, 2022, 3-6 pm EST (this is a two-part session)
The Paired Associates Strategy, Nov. 8 & 10, 2022, 3-6 pm EST (this is a two-part session)
Presenters: Rosanne Arvin & Sue Meyer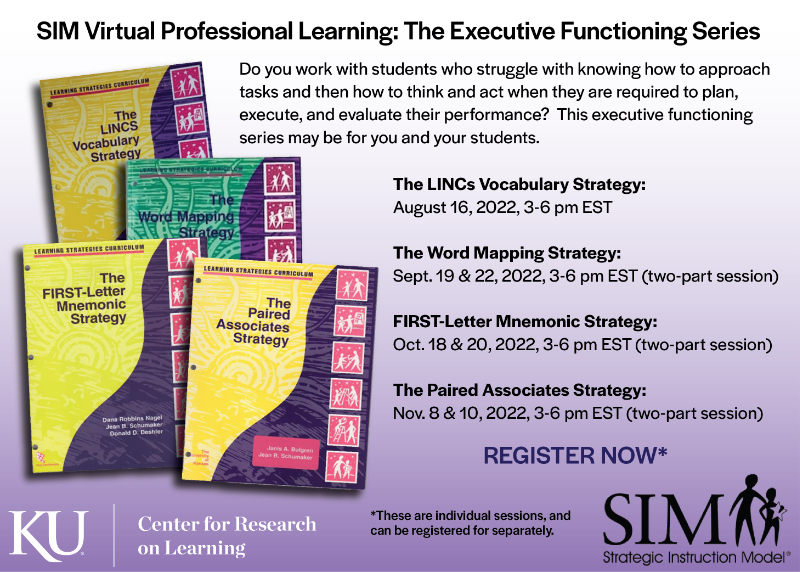 ---
Do you work with students who struggle with knowing how to approach tasks and then how to think and act when they are required to plan, execute, and evaluate their performance?  This executive functioning series may be for you and your students.  This series includes four Learning Strategies in the storage and memory strands to support student executive functioning in the inclusive classroom as well as independent functioning in the community.
The four classes may be taken as a continuum or individually to meet the professional development needs of the participants.  The series will focus on separate domains of executive functioning of the brain and provide a variety of options to teach students how to complete tasks by teaching them how to learn.
---
Participants will receive the following materials as part of their registration: SIM Virtual Professional Learning, applicable guidebook(s), access to digital teacher resources, and a one-hour small group coaching session.
Price: $175/per session
     Bulk Rates Available (email simpd@ku.edu for bulk rate pricing)
     Registration Deadlines (please register by the following dates to receive your guidebooks on time):
July 18 for The LINCs Vocabulary Strategy Session on 8/16/22
Aug. 22 for The Word Mapping Strategy Session on 9/19&22/22
Sept. 19 for the FIRST-Letter Mnemonic Strategy Session on 10/18&20/22
Oct. 10 for The Paired Associates Strategy on 11/8&10/22
Register through our online form and then make your payment. 
Note: This class has a minimum enrollment number. Please do not submit payment information until we contact you that we have reached the minimum enrollment. Thank you!
---
Refund Policy: If you find you are not able to attend the class, notify KUCRL for a refund of your registration minus a $25 cancellation fee and costs of any materials that have shipped.
For questions regarding registration, please contact simpd@ku.edu, 785-864-0626.
For questions regarding payment, contact orderkucrl@ku.edu, 785-864-4780.