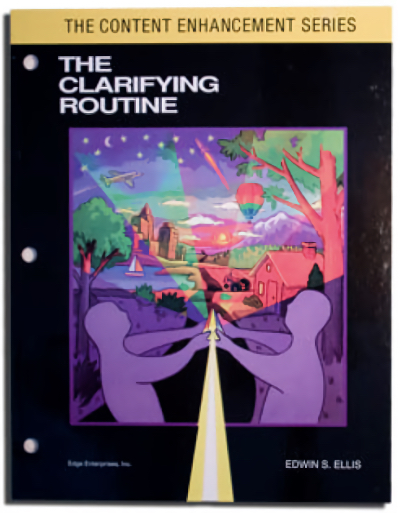 Teachers use the Clarifying Routine to focus on a topic and then explore related details and the topic's connection to critical concepts and ideas. This routine helps students master the meaning of targeted words and phrases.

All students, including English language learners and those with LD, whose teachers used the Clarifying Routine had significantly higher overall test scores than when the routine was not used. In studies with students in grades 4-6, students with high socioeconomic level improved by 14%; students with middle socioeconomic level improved by 30%, and students with low socioeconomic level improved by 20%.
--
This product is published by Edge Enterprises, Inc.  Professional development is recommended, see the SIM Event page for sessions.
--
Author(s): Edwin S. Ellis
Publication Info: Edge Enterprises, Inc.
Resources:
The Clarifying Routine Research (.pdf)
An accessible version of the documents on this site will be made available upon request. Please contact the KU CRL Professional Development Research Institute, at simpd@ku.edu to request the document be made available in an accessible format.