The Concept Comparison Routine
---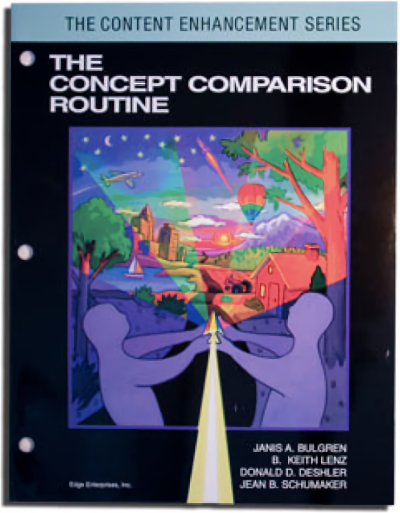 Teachers use the Concept Comparison Routine to help students compare and contrast key concepts by exploring characteristics of each concept and then distinguishing between the concepts that were similar and those that were different.

Students whose teachers used the Concept Comparison Routine had significantly higher overall test scores than students in the comparison condition. Students with LD in the experimental condition scored 14.64% higher and low-achieving students scored 23.72% higher than those in the comparison condition in studies with students in grades 7-12.
---
Please note that professional development, coaching, and infrastructure support are essential components to effective implementation of SIM instructional tools and interventions. It is highly recommended that you work with a SIM professional developer. Please email simpd@ku.edu to learn more.
---
Author(s): Janis A. Bulgren, Jean B. Schumaker, and Donald D. Deshler
Publication Info: Edge Enterprises, 1995
This product is published by Edge Enterprises, Inc.  Professional development is recommended, see the SIM Event page for sessions.
Resources:
Research Articles:

Bulgren, J.A., Lenz, B.K., Schumaker, J.B., Deshler, D.D., & Marquis, J.G. (2002). The use and effectiveness of a comparison routine in diverse secondary content classrooms. Journal of Educational Psychology, 94(2), 356-371. This article reports the results of two studies of the Concept Comparison Routine: Study 1 provides evidence that students benefit from use of the routine and graphic organizer device, and Study 2 provides evidence that teachers can learn to use the device quickly.
Schumaker, J.B., Fisher, J.B., & Walsh, L.D. (2010). The effects of a computerized professional development program on teachers and students with and without disabilities in secondary general education classes. Learning Disability Quarterly, 33, 111-131. Two studies indicate a computerized Concept Comparison Routine professional development program was at least as effective as a face-to-face workshop on measures of teacher learning and student results.
Bulgren. J., & Scanlon, D. (1997). Instructional routines and learning strategies that promote understanding of content area concepts. Journal of Adolescent & Adult Literacy, 41(4), 292-302. This article provides examples of using content enhancement routines (Concept Diagram, Comparison Table, ORDER) to promote an understanding of middle and secondary school content area concepts.
An accessible version of the documents on this site will be made available upon request. Please contact the KU CRL Professional Development Research Institute, at simpd@ku.edu to request the document be made available in an accessible format.