The Concept Mastery Routine
---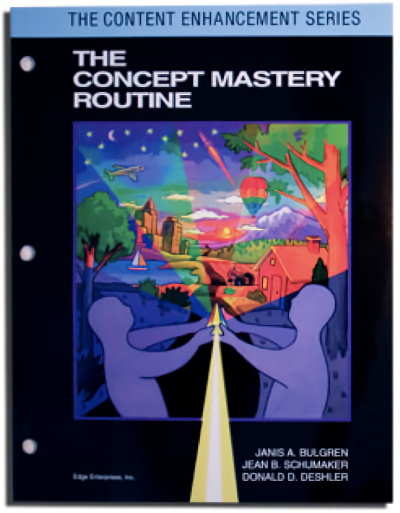 Teachers use the Concept Mastery Routine to identify characteristics of an example of a concept class that must be always, sometimes, and never present to fit in the concept class. New examples are explored to confirm understanding of a concept.
Among both students with and without LD, students whose teachers used the Concept Mastery Routine had significantly higher overall test scores after concept teaching and review on concept acquisition and regularly scheduled tests than during baseline. For regular classroom tests in grades 7-12, 97% of students without LD and 75% of students with LD scored at or above the common passing grade level.
---
Author(s): Janis A. Bulgren, Jean B. Schumaker, and Donald D. Deshler
Publication Info: Edge Enterprises, 1993
This product is published by Edge Enterprises, Inc.  Professional development is recommended, see the SIM Event page for sessions.
---
Resources:
RESEARCH ARTICLES
Bulgren. J., & Scanlon, D. (1997). Instructional routines and learning strategies that promote understanding of content area concepts. Journal of Adolescent & Adult Literacy, 41(4), 292-302. This article provides examples of using content enhancement routines (Concept Diagram, Comparison Table, ORDER) to promote an understanding of middle and secondary school content area concepts.
Shaw, J.M., Thomas, C., Hoffman, A., & Bulgren, J. (1995). Using concept diagrams to promote understanding in geometry. Teaching Children Mathematics, 2(3), 184-189. An example of using the Concept Mastery Routine for teaching geometric properties and relationships in mathematics to middle- and upper-grades students is provided.
Lenz, B.K., Bulgren, J.A., & Hudson, P. (1990). Content enhancement: A model for promoting the acquisition of content by individuals with learning disabilities. in T.E. Scruggs & B.L.Y Wong (Eds.), Intervention research in learning disabilities (pp. 122-165). New York: Springer-Verlag. This book chapter discusses information processing and pedagogy for students with learning disabilities, including suggestions for teacher planning and teaching routines such as the Chapter Survey Routine, Concept Teaching Routine, and Assignment Completion Routine.
Bulgren, J.A., Schumaker, J.B., & Deshler, D.D. (1988). Effectiveness of a concept teaching routine in enhancing the performance of LD students in secondary-level mainstream classes. Learning Disability Quarterly, 11(1), 3-17. Multiple-baseline studies with a wide array of variables are used to measure teacher effectiveness with Concept Diagrams and the Concept Teaching Routine in heterogeneous regular education classrooms and their effect on students (with and without LD) using several classroom performance indicators.
An accessible version of the documents on this site will be made available upon request. Please contact the KU CRL Professional Development Research Institute, at simpd@ku.edu to request the document be made available in an accessible format.