Cooperative Thinking: The LEARN Strategy
The Cooperative Thinking Strategies are a group of strategies students can use to think and work productively together. These instructional programs provide ways to accommodate a diversity of learners in inclusive classrooms and enable students to learn complex higher-order thinking skills that they can use to work together harmoniously with others in school, leisure, family, community, and work setting.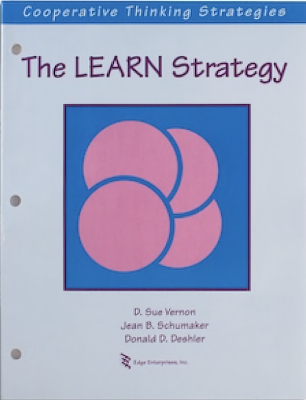 The LEARN Strategy was designed to enable students to work in teams to learn together. Each step promotes creative cooperation; students think together to generate ideas to help them learn. Students learn how to organize information both as members of a team and as independent learners
Research results indicated that students in the experimental classes performed a significantly higher percentage of study behaviors than comparison students in their cooperative study groups at the end of the school year. Experimental group pretest scores averaged 18 percent and posttest scores averaged 70 percent. The comparison group pretest scores averaged 27 percent and posttest scores averaged 35 percent.
---
This product is available through Edge Enterprises, Inc.

Please note that professional development, coaching, and infrastructure support are essential components to effective implementation of SIM instructional tools and interventions. It is highly recommended that you work with a SIM professional developer. See the SIM Event list for sessions or email simpd@ku.edu to learn more.
---
Author(s): D. Sue Vernon, Jean B. Schumaker, and Donald D. Deshler
Publication Info: Edge Enterprises, Inc.
Resources:
An accessible version of the documents on this site will be made available upon request. Please contact the KU CRL Professional Development Research Institute, at simpd@ku.edu to request the document be made available in an accessible format.