Cooperative Thinking: The THINK Strategy
The Cooperative Thinking Strategies are a group of strategies students can use to think and work productively together. These instructional programs provide ways to accommodate a diversity of learners in inclusive classrooms and enable students to learn complex higher-order thinking skills that they can use to work together harmoniously with others in school, leisure, family, community, and work setting.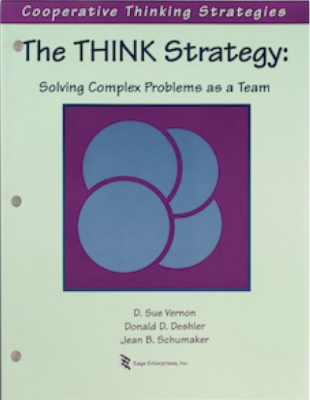 The THINK Strategy is used by students working together in teams to systematically solve problems. Students learn to analyze and identify a problem, examine what's been done in the past, brainstorm new solutions, discuss the advantages and disadvantages of new solutions, choose the best one, devise a plan to implement it, and review how they worked together.
Close to 400 fourth- and fifth-grade students participated in a field test of the THINK Strategy; that number included 30 percent who represented minorities and 36 percent students with exceptionalities. School improvement goals associated with the research studies targeted problem solving, reasoning, and communicating. Results showed that the mean percentage of points earned by groups before instruction was the same for experimental and comparison groups at 34 percent. However, at the end of the school year, the mean percentage score for the students in the experimental groups was 84 percent and for students in the comparison groups 39 percent.
---
This product is available through Edge Enterprises, Inc.
Please note that professional development, coaching, and infrastructure support are essential components to effective implementation of SIM instructional tools and interventions. It is highly recommended that you work with a SIM professional developer. See the SIM Event list for sessions or email simpd@ku.edu to learn more.
---
Author(s): D. Sue Vernon, Donald D. Deshler, and Jean B. Schumaker
Publication Info: Edge Enterprises, Inc.
Resources:
An accessible version of the documents on this site will be made available upon request. Please contact the KU CRL Professional Development Research Institute, at simpd@ku.edu to request the document be made available in an accessible format.