The First-Letter Mnemonic Strategy
---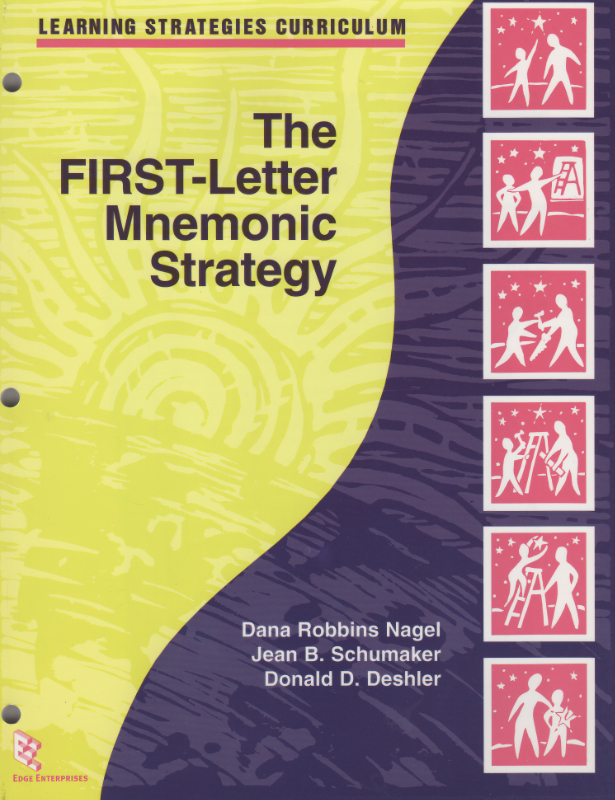 The FIRST-Letter Mnemonic Strategy is a strategy for independently studying large bodies of information that need to be mastered. Specifically, students identify lists of information that are important to learn, generate an appropriate title or label for each set of information, select a mnemonic device for each set of information, create study cards, and use the study cards to learn the information.
In studies, students who learned the FIRST-Letter Mnemonic Strategy increased their scores of test questions related to list information from an average of 51 percent before instruction to 85 percent after instruction.
---
This product is available through Edge Enterprises, Inc.
Please note that professional development, coaching, and infrastructure support are essential components to effective implementation of SIM instructional tools and interventions. It is highly recommended that you work with a SIM professional developer. See the SIM Event list for sessions or email simpd@ku.edu to learn more.
---
Author(s): Dana Robbins Nagel, Jean B. Schumaker, and Donald D. Deshler
Publication Info: Edge Enterprises, 1986 (revised 2003)
Resources:
FIRST-Letter Mnemonic Strategy Research (.pdf)
An accessible version of the documents on this site will be made available upon request. Please contact the KU CRL Professional Development Research Institute, at simpd@ku.edu to request the document be made available in an accessible format.