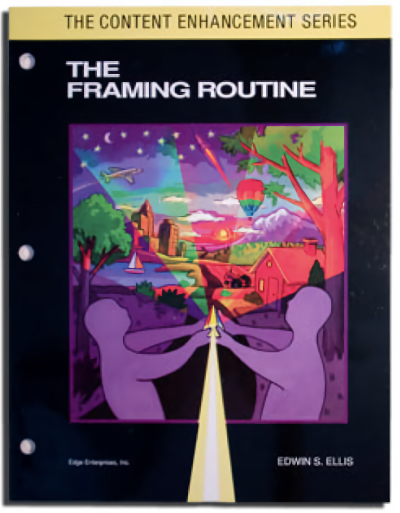 Teachers use the Framing Routine to transform abstract main ideas and key topics into a concrete representation that helps students think about and talk about the key topic and essential related information.

Average-achieving students, high-achieving students, and students with LD whose teachers used the Framing Routine had significantly higher overall scores on oral and written tests than students in the comparison condition across two studies conducted in ELA and social studies secondary classes. Students with LD in the experimental group wrote an average of 102 more words in their post-test product than students with LD in the comparison group, which was also more words than average achieving students in the comparison group.
---
Author(s): Edwin S. Ellis
Publication Info: Edge Enterprises, 1998
This product is published by Edge Enterprises, Inc.  Professional development is recommended, see the SIM Event page for sessions.
Please note that professional development, coaching, and infrastructure support are essential components to effective implementation of SIM instructional tools and interventions. It is highly recommended that you work with a SIM professional developer. Please email simpd@ku.edu to learn more.
---
Resources:
The Framing Routine Research (.pdf)
An accessible version of the documents on this site will be made available upon request. Please contact the KU CRL Professional Development Research Institute, at simpd@ku.edu to request the document be made available in an accessible format.