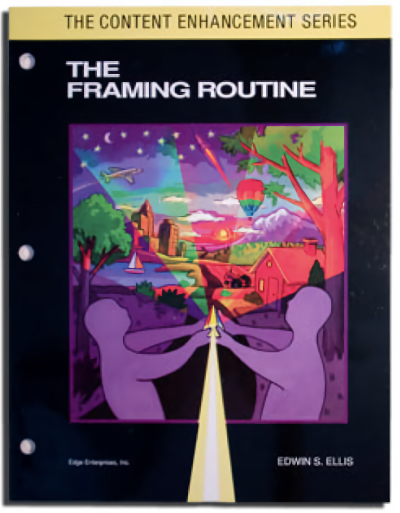 Teachers and students use the Framing Routine in conjunction with a graphic organizer called a "Frame" to develop a thorough understanding of information associated with key topics and main ideas. The Frame, a concrete representation of abstract ideas, helps students study essential information and focus on relationships between main ideas and details as well as among several main ideas.
Research results have consistently demonstrated that the routine can effectively facilitate subject-matter learning as well as the development of literacy and thinking skills. In a study focusing on written products of 35 eighth-grade students, the students who were taught with the Framing Routine wrote an average of 102 words more per product than did the students who were in the comparison group. In another study conducted in a fourth/fifth-grade multi-age inclusive classroom, students' scores on answers to essay test questions were an average of 21 percentage points higher when the teacher used the Framing Routine to teach the subject matter.
Please note that professional development, coaching, and infrastructure support are essential components to effective implementation of SIM instructional tools and interventions. It is highly recommended that you work with a SIM professional developer. Please email simpd@ku.edu to learn more.
The Framing Routine Research (.pdf)
Author(s): Edwin S. Ellis
Publication Info: Edge Enterprises, 1998
This product is published by Edge Enterprises, Inc.  Professional development is recommended, see the SIM Event page for sessions.
An accessible version of the documents on this site will be made available upon request. Please contact the KU CRL Professional Development Research Institute, at simpd@ku.edu to request the document be made available in an accessible format.