The Fundamentals of Paraphrasing and Summarizing Strategy
---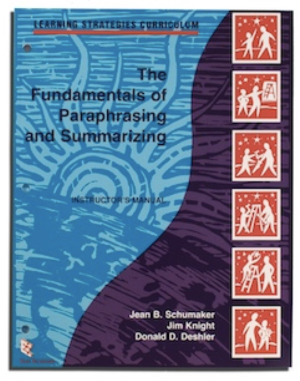 Fundamentals of Paraphrasing and Summarizing helps older students acquire the fundamental skills they need to be able to identify and paraphrase main ideas and details. Lesson topics include paraphrasing words, phrases, and sentences; identifying details, topics, and main ideas; creating summaries; and more. These skills are foundational to being able to paraphrase and summarize information and are required when students write answers to questions or write reports in school.
---
There are multiple products associated with this strategy. Instructor materials are available through the KUCRL Shop.  Student materials are published by Edge Enterprises, Inc. 
Please note that professional development, coaching, and infrastructure support are essential components to effective implementation of SIM instructional tools and interventions. It is highly recommended that you work with a SIM professional developer.
An Online Professional Development Module is available for this strategy.  See the SIM Event list for sessions or email simpd@ku.edu to learn more.
---
Author(s): Jean B. Schumaker, Jim Knight, and Donald D. Deshler
Publication Info: Edge Enterprises, 2007
Resources:
Research on the Fundamentals of Paraphrasing and Summarizing Strategy (.pdf)
An accessible version of the documents on this site will be made available upon request. Please contact the KU CRL Professional Development Research Institute, at simpd@ku.edu to request the document be made available in an accessible format.