Fundamentals in the Theme Writing Strategy
---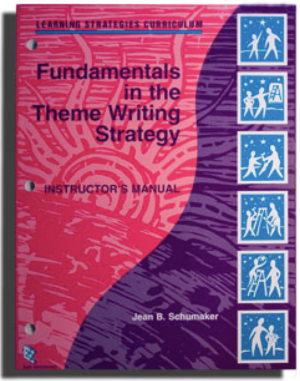 Writing themes or essays can be a daunting challenge. However, once students learn the building blocks, they can create TOWERs of power! With this program, they learn how to plan and write a basic theme containing an Introductory Paragraph, Detail Paragraphs, and a Concluding Paragraph. They learn how to vary the structure of these paragraphs and to grab their readers' attention using a variety of options.
The Theme Writing Strategy focuses on the fundamental skills associated with writing themes and provides learning sheets to accompany instruction.
---
This product is published by Edge Enterprises, Inc. 
Please note that professional development, coaching, and infrastructure support are essential components to effective implementation of SIM instructional tools and interventions. It is highly recommended that you work with a SIM professional developer. See the SIM Event list for sessions or email simpd@ku.edu to learn more.
---
Author(s): Jean B. Schumaker
Publication Info: Edge Enterprises
---
Resources:
Fundamentals of Theme Writing Strategy Research (.pdf)
RESEARCH ARTICLES
Schumaker, J.B., & Deshler, D.D. (2009). Adolescents with learning disabilities: Are we selling them short? Learning Disabilities Research & Practice, 24(2), 81-92. The authors review the evolution of SIM writing strategies and research that shows students with learning disabilities can learn and successfully use writing strategies under the right instructional conditions.
Schumaker, J.B., & Deshler, D.D. (2003). Can students with LD become competent writers? Learning Disability Quarterly, 26(2), 129-141. This article summarizes a programmatic line of R&D work that has focused on learning strategies instruction as a method for improving the writing performance of students with disabilities within the context of the general education curriculum as well as on district- and state-wide writing assessments.
An accessible version of the documents on this site will be made available upon request. Please contact the KU CRL Professional Development Research Institute, at simpd@ku.edu to request the document be made available in an accessible format.