The Lesson Organizer Routine
---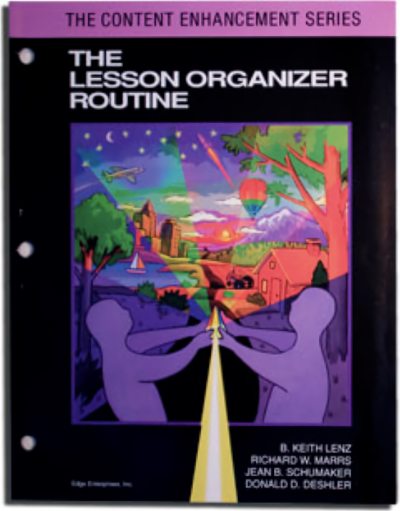 Teachers use the Lesson Organizer Routine to plan lessons and then introduce and connect ideas to the unit and the course.
In studies with students in English Language Arts, social studies, and science classrooms in grades 10- 12, students whose teachers used the Lesson Organizer Routine scored an average of 15% higher on unit tests than students whose teachers used the routine only irregularly or not at all.
Please note that professional development, coaching, and infrastructure support are essential components to effective implementation of SIM instructional tools and interventions. It is highly recommended that you work with a SIM professional developer. Please email simpd@ku.edu to learn more.
 
The Lesson Organizer Routine Research (.pdf)
Author(s): B. Keith Lenz, Richard W. Marrs, Jean B. Schumaker, and Donald D. Deshler
Publication Info: Edge Enterprises, 1993
This product is published by Edge Enterprises, Inc.  Professional development is recommended, see the SIM Events page for sessions.
Research Articles
Lenz, B.K., & Adams, G. (2006). Planning practices that optimize curriculum access. In D.D. Deshler & J.B. Schumaker (Eds.), Teaching adolescents with disabilities: Accessing the general education curriculum (pp. 35-78). Thousand Oaks, CA: Corwin Press. This chapter reviews issues related to planning for students with disabilities, different kinds of planning interventions, and studies on teacher planning, including a review of lesson planning, unit planning, and course planning research.
Mittag, K.C., & Van Reusen, A.K. (1999). One fish, two fish, pretzel fish: Learning estimation and other advanced mathematics concepts in an inclusive class. Teaching Exceptional Children, 31(6), 66-72. Using a combination of research-based approaches (Cooperative Estimation Techniques, calculators, and the Lesson Organizer Routine), a team of teachers successfully taught fifth-grade students in an inclusive classroom to use various strategies to learn advanced mathematics concepts and skills.
An accessible version of the documents on this site will be made available upon request. Please contact the KU CRL Professional Development Research Institute, at simpd@ku.edu to request the document be made available in an accessible format.