The LINCS Vocabulary Strategy
---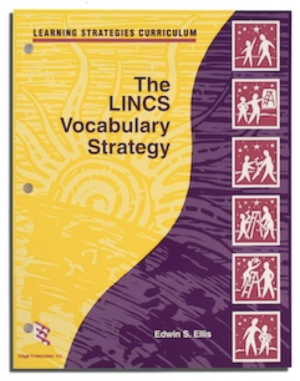 The LINCS Vocabulary Strategy helps students learn the meaning of new vocabulary words using powerful memory-enhancement techniques. Strategy steps cue students to focus on critical elements of the concept; to use visual imagery, associations with prior knowledge, and key-word mnemonic devices to create a study card; and to study the card to enhance comprehension and recall of the concept.
Research results showed that in a social studies class in which the LINCS Vocabulary Strategy was taught to students, the students with learning disabilities performed at a mean of 53 percent in the pretest and at a mean of 77 percent correct answers after learning the strategy. In the control class in which students did not learn the strategy, the mean percentage of correct answers decreased from the pretest to the posttest.
---
This product is available through Edge Enterprises, Inc.
Please note that professional development, coaching, and infrastructure support are essential components to effective implementation of SIM instructional tools and interventions. It is highly recommended that you work with a SIM professional developer. See the SIM Event list for sessions or email simpd@ku.edu to learn more.
---
Author(s): Edwin S. Ellis
Publication Info: Edge Enterprises, 1992 (revised 2000)
Resources:
Research on the LINCS Vocabulary Strategy (.pdf)

RESEARCH ARTICLES
Harris, M.L., Schumaker, J.B., & Deshler, D.D. (2011). The effects of strategic morphological analysis instruction on the vocabulary performance of secondary students with and without disabilities. Learning Disability Quarterly, 34, 17-33. In this study, students were able to learn two vocabulary strategies--Word Mapping and LINCs--and were able to apply Word Mapping to analyze and determine the meaning of unknown words.
Schumaker, J.B., Deshler, D.D., Woodruff, S.K., Hock, M.F., Bulgren, J.A., & Lenz, B.K. (2006). Reading strategy interventions: Can literacy outcomes be enhanced for at-risk adolescents? Teaching Exceptional Children, 38(3), 64-68. In two studies, students who learned reading strategies outperformed students who did not.
An accessible version of the documents on this site will be made available upon request. Please contact the KU CRL Professional Development Research Institute, at simpd@ku.edu to request the document be made available in an accessible format.