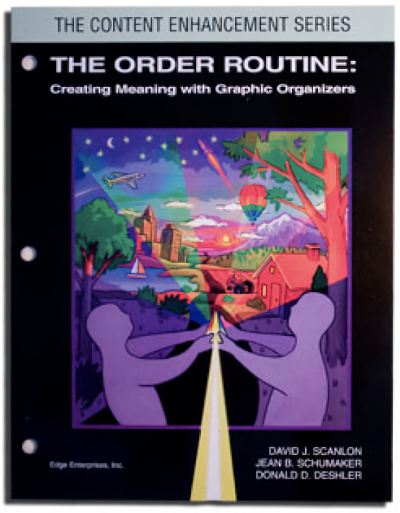 The ORDER Routine responds to three priorities teachers have identified for their students: the ability to form relationships within information sets, the ability to organize information, and the ability to create visual devices for learning. Through use of the ORDER Routine, students learn to identify how information in a reading passage or lecture is structured. The routine helps students decide what information is important; determine whether it is best organized in a sequential, descriptive, compare-and-contrast, or problem-solution format; depict key pieces of information and their relationships in a graphic organizer; explain the organizer to others; and use the organizer to prepare for tests or reports.
In one study of the effectiveness of the ORDER ROUTINE, tests measured students' ability to recognize the expository relationships among content in a reading passage and to create appropriate graphic organizers for the content. Students who learned to use the routine earned significantly higher scores than those who did not.
Please note that professional development, coaching, and infrastructure support are essential components to effective implementation of SIM instructional tools and interventions. It is highly recommended that you work with a SIM professional developer. Please email simpd@ku.edu to learn more.
The Order Routine Research (.pdf)
Author(s): David J. Scanlon, Jean B. Schumaker, and Donald D. Deshler
Publication Info: Edge Enterprises, 2004
This product is published by Edge Enterprises, Inc.  Professional development is recommended, see the SIM Event page for sessions.
RESEARCH ARTICLES
Bulgren. J., & Scanlon, D. (1997). Instructional routines and learning strategies that promote understanding of content area concepts. Journal of Adolescent & Adult Literacy, 41(4), 292-302. This article provides examples of using content enhancement routines (Concept Diagram, Comparison Table, ORDER) to promote an understanding of middle and secondary school content area concepts.
An accessible version of the documents on this site will be made available upon request. Please contact the KU CRL Professional Development Research Institute, at simpd@ku.edu to request the document be made available in an accessible format.