The Paraphrasing Strategy
---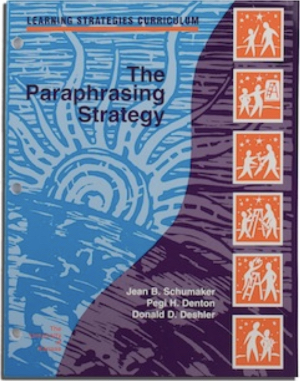 The Paraphrasing Strategy is designed to help students focus on the most important information in a passage and to improve students' recall of main ideas and specific facts. Students read short passages of materials, identify the main idea and details, and rephrase the content in their own words.
In research studies, students showed average gains of 35 percentage points in reading comprehension of grade-level materials after mastering the strategy.
---
This product is available through Edge Enterprises, Inc.
Please note that professional development, coaching, and infrastructure support are essential components to effective implementation of SIM instructional tools and interventions. It is highly recommended that you work with a SIM professional developer. See the SIM Event list for sessions or email simpd@ku.edu to learn more.
---
Author(s): Jean B. Schumaker, Pegi H. Denton, and Donald D. Deshler
Publication Info: University of Kansas, 1984
Resources:
Strategram Vol. 8, No. 4: Using Persuasion to Present the Paraphrasing Strategy - and A Sentence to help remember the Paraphrasing Mnemonic, Emmett Murray (.pdf)
Strategram Vol. 8, No. 5: Strategy Sticker Reminder for the Generalization Stage of Paraphrasing and Sentence Writing (.pdf)
Strategram Vol. 10, No. 1: Study shows benefits of Paraphrasing Strategy in general ed middle school classrooms (.pdf)
Strategram Vol. 12, No. 5, May, 2000: Tips for teaching paraphrasing, Gwen Berry (.pdf)
Strategram Vol. 13, No.1: An Activity to introduce Main Idea and Details, Margaret Carmean (.pdf)
Strategram Vol. 14, No. 3: Recommended reading: Passages for Paraphrasing and Word ID (.pdf)
Strategram Vol. 17, No. 5: Active Reading to support Paraphrasing Strategy instruction (.pdf)
RESEARCH ARTICLES
Schumaker, J.B., Deshler, D.D., Woodruff, S.K., Hock, M.F., Bulgren, J.A., & Lenz, B.K. (2006). Reading strategy interventions: Can literacy outcomes be enhanced for at-risk adolescents? Teaching Exceptional Children, 38(3), 64-68. In two studies, students who learned reading strategies outperformed students who did not.
Oas, B.K., Schumaker, J.B., & Deshler, D.D. (1995). Learning strategies: Tools for learning to learn in middle and high schools. Secondary education and beyond: Providing opportunities for students with learning disabilities. Pittsburgh, PA: Learning Disabilities Association of America. This article uses student case descriptions to illustrate how a variety of learning strategies--including the Self-Advocacy Strategy, Sentence Writing Strategy, and Paraphrasing Strategy--might be implemented with students who experience an array of learning disabilities characteristics.
An accessible version of the documents on this site will be made available upon request. Please contact the KU CRL Professional Development Research Institute, at simpd@ku.edu to request the document be made available in an accessible format.