The Quality Assignment Routine
---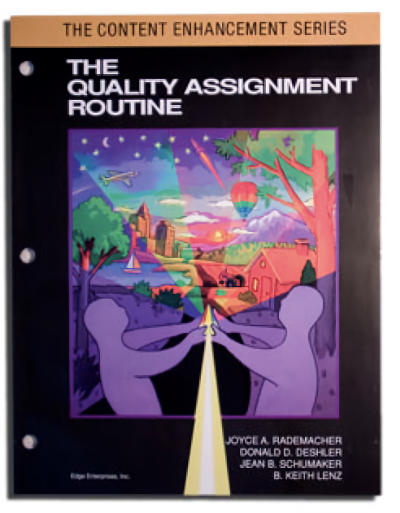 Teachers use the Quality Assignment Routine to create assignments that are motivational for students and that students are likely to complete. The three phases of the routine--planning, presenting, and evaluating--give teachers a structured approach to handling assignments and help ensure that students understand what they need to do to complete assignments correctly. The routine incorporates characteristics and factors identified by students and teachers as important to students' successful completion of assignments.
Research on the Quality Assignment Routine showed the following:
Before the study, teachers included an average of 50.5 percent of the planning behaviors, 32.8 percent of the presentation behaviors, and 8.2 percent of the evaluation procedures.
After learning to use the routine, participants used an average of 96.1 percent of the planning behaviors, 89.3 percent of the presentation behaviors, and 93.8 percent of the evaluation procedures.
In contrast, a group of comparison teachers used an average of 45 percent of the planning behaviors, 26 percent of the assignment presentation behaviors, and 10 percent of the evaluation procedures at the end of the study.
Teachers who received instruction in the use of the routine and their students were significantly more satisfied with assignments.
Please note that professional development, coaching, and infrastructure support are essential components to effective implementation of SIM instructional tools and interventions. It is highly recommended that you work with a SIM professional developer. Please email simpd@ku.edu to learn more.
The Quality Assignment Routine Research (.pdf)
Author(s): Joyce A. Rademacher, Donald D. Deshler, Jean B. Schumaker, and B. Keith Lenz
Publication Info: Edge Enterprises, 1998
This product is published by Edge Enterprises, Inc.  Professional development is recommended, see the SIM Event page for sessions.
RESEARCH ARTICLES
Lenz, B.K., Bulgren, J.A., & Hudson, P. (1990). Content enhancement: A model for promoting the acquisition of content by individuals with learning disabilities. In T.E. Scruggs & B.Y.L. Wong (Eds.), Intervention research in learning disabilities (pp. 122-165). New York: Springer-Verlag. This book chapter discusses information processing and pedagogy for students with learning disabilities, including suggestions for teacher planning and teaching routines such as the Chapter Survey Routine, Concept Teaching Routine, and Assignment Completion Routine.
Rademacher, J.A. (1999). Enhancing assignment completion for academically diverse learners. In D.D. Deshler, J.B. Schumaker, K.R. Harris, & S. Graham (Eds.), Teaching every adolescent every day: Learning in diverse middle and high school classrooms (pp. 146-206). Cambridge, MA: Brookline Books. This book chapter discusses the planning of high-quality assignments, improving the nature of secondary assignments to students, presenting assignments with students, and technology as a tool for enhancing assignment completion.
Rademacher, J.A. (2000). Involving students in assignment evaluation. Intervention in School and Clinic, 35(3), 151-156. This article describes the relationships among the planning, presenting, and evaluating components of the assignment completion process, then provides guidelines for using the Quality Assignment Routine's PACE 1,2,... self-checking process.
Rademacher, J.A., Schumaker, J.B., & Deshler, D.D. (1996). Development and validation of a classroom assignment routine for inclusive settings. Learning Disability Quarterly, 19(3), 163-178. Multiple-probe and comparison-group designs are used in combination to (a) identify and explore high-quality classroom assignments from the perspective of inclusion teachers and students (LD and non-LD) and (b) determine the effects of the Quality Assignment Completion Routine on content teachers' planning, explanation, and evaluation of assignments.
Rademacher, J., Tyler-Wood, T., Doclar, J., & Pemberton, J. (2001). Developing learner-centered technology assignments with student teachers. Journal of Computing in Teacher Education, 17(3), 18-25. This article describes a project in which technology experts worked with university faculty and student teachers to infuse technology into high-quality assignments incorporating aspects of the Quality Assignment Routine.
An accessible version of the documents on this site will be made available upon request. Please contact the KU CRL Professional Development Research Institute, at simpd@ku.edu to request the document be made available in an accessible format.