The Question Exploration Routine
---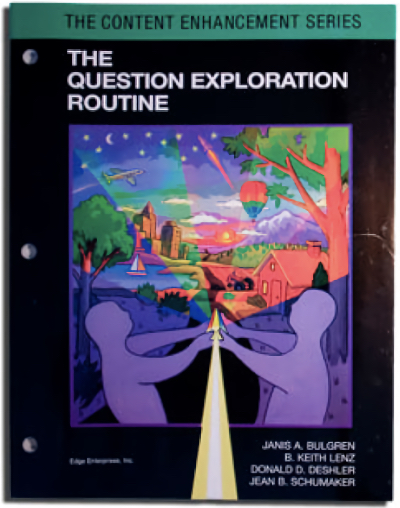 Teachers use the Question Exploration Routine to help students understand a "critical question" and to arrive at a main idea answer. Students learn to break apart a large question into smaller, more manageable questions, answer those questions, arrive at the main idea answer, apply the main idea to the subject area or related issue and generalize the idea.
Students whose teachers used the Question Exploration Routine had significantly higher overall test scores than students in the comparison condition across three studies conducted in ELA secondary classes, 7th grade science and social studies classes, and in secondary urban schools, grades 9-12. For ability to write essays, students in the experimental group improved their scores, with moderately large to very large effect sizes; those in the comparison group scored lower on the post-test than the pretest.
---
Please note that professional development, coaching, and infrastructure support are essential components to effective implementation of SIM instructional tools and interventions. It is highly recommended that you work with a SIM professional developer. Please email simpd@ku.edu to learn more.
---
The Question Exploration Routine Research (.pdf)
Author(s): Janis A Bulgren, B. Keith Lenz, Donald D. Deshler, and Jean B. Schumaker
Publication Info: Edge Enterprises, 2001
This product is published by Edge Enterprises, Inc.  Professional development is recommended, see the SIM Event page for sessions.
Research Articles
Bulgren, J.A., Marquis, J.G., Lenz, B.K., Schumaker, J.B., & Deshler, D.D. (2009). Effectiveness of question exploration to enhance students' written expression of content knowledge and comprehension. Reading & Writing Quarterly, 25, 271-289. Using an experimental design, this study found positive results in regard to the effectiveness of the Question Exploration Routine and Question Exploration Guide for enhancing student performance in terms of comprehension of content and quality of written responses.
Bulgren, J.A., Marquis, J.G., Lenz, B.K., Deshler, D.D., & Schumaker, J.B. (2011). The effectiveness of a question-exploration routine for enhancing the content learning of secondary students. Journal of Educational Psychology, 103(3), 578-593. In this study, students--including subgroups of students--who were taught using the Question Exploration Routine and Question Exploration Guide earned higher test scores than those taught using a lecture-discussion method.
Schumaker, J.B., Fisher, J.B., Walsh, L.D, Lancaster, P.E. (2020) Effects of Multimedia versus Live Professional Development on Teachers' and Students' Performance Related to the Question Exploration Routine. Learning Disabilities Research & Practice, 00(0), 1-21. In each of two studies, teachers were assigned to Virtual Workshops using a computerized professional development program and an Actual Workshop group that participated in face-to-face professional development, including discussion, feedback, and collaboration.  Both groups' post-test scores with regard to implementation and planning of the  routine were significantly greater than their pretest scores.  The post-test knowledge scores of the whole groups of students and the subgroups of students with LD being taught by both groups of teachers were significantly higher than their pretest scores.
An accessible version of the documents on this site will be made available upon request. Please contact the KU CRL Professional Development Research Institute, at simpd@ku.edu to request the document be made available in an accessible format.