The Recall Enhancement Routine
---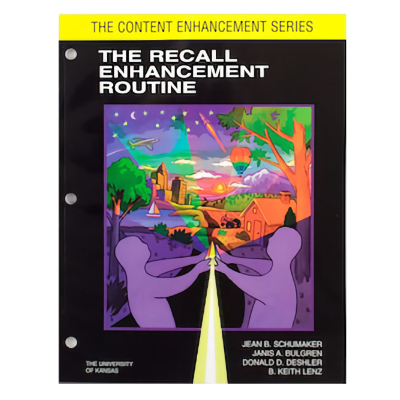 Using the Recall Enhancement Routine, teachers show students how to create and use mnemonic devices called Recall Devices to commit information to memory and, ultimately, perform well on tests. Teachers use the routine to cue students that information is important, construct a Recall Device, explicitly link the device and the important information, and review the device and information.
Studies indicate that students' performance is related to the teacher's use of the routine. In classes in which teachers used the routine, students with or without disabilities performed significantly better on test items that could best be addressed through the creation of the types of Recall Devices that their teachers presented than did students in the comparison classes. The recall performance of students with and without disabilities in the experimental group was higher by 29.10 and 20.5 points, respectively, than the performance of similar students in the control group on reviewed facts.
---
Please note that professional development, coaching, and infrastructure support are essential components to effective implementation of SIM instructional tools and interventions. It is highly recommended that you work with a SIM professional developer. Please email simpd@ku.edu to learn more.
---
The Recall Enhancement Routine Research (.pdf)
Author(s): Jean B. Schumaker, Janis A. Bulgren, Donald D. Deshler, and B. Keith Lenz
Publication Info: University of Kansas, 1998
This product is available through the KUCRL Shop.  Professional development is recommended, see the SIM Event Page for sessions.
---
Research Articles
Bulgren, J.A., Deshler, D.D., & Schumaker, J.B. (1997). Use of a recall enhancement routine and strategies in inclusive secondary classes. Learning Disabilities Research & Practice, 12(4), 198-208. A multiple-baseline design study is used with teachers to determine the effects of training on their performance of the Recall Enhancement Routine and a post-test only comparison design is employed to determine the effects of teacher use of the routine on student use of mnemonic devices.
Bulgren, J.A., Schumaker, J.B., & Deshler, D.D. (1994). The effects of a recall enhancement routine on the test performance of secondary students with and without learning disabilities. Learning Disabilities Research & Practice, 9(1), 2-11. Multiple measures are collected and analyzed using descriptive and inferential statistics to evaluate the effectiveness of repetitious review of the Recall Enhancement Routine on student performance (LD and non-LD) in inclusive general education classrooms.
An accessible version of the documents on this site will be made available upon request. Please contact the KU CRL Professional Development Research Institute, at simpd@ku.edu to request the document be made available in an accessible format.