The Scientific Argumentation Routine
---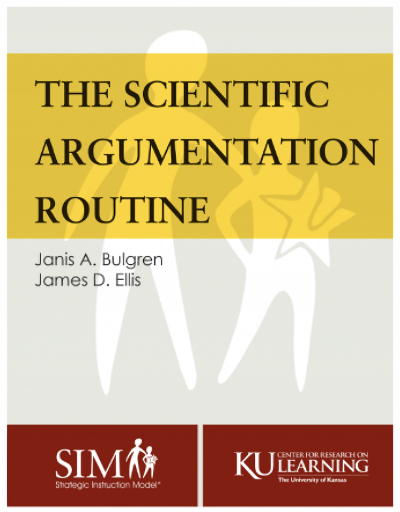 This e-manual contains a set of instructional methods that science teachers can use to help students engage in the higher order reasoning associated with argumentation. This manual provides teachers and students with evidence-based procedures that will enable them to think critically about a claim, decide on the strength of the claim, and explain the reasoning that supports the claim. It is available in the KUCRL online store.
Author(s): Janis A. Bulgren, James D. Ellis
Publication Info: University of Kansas, 2015
Please note that professional development, coaching, and infrastructure support are essential components to effective implementation of SIM instructional tools and interventions. It is highly recommended that you work with a SIM professional developer. Please email simpd@ku.edu to learn more.
Research Articles
The argumentation and evaluation guide: encouraging NGSS-based critical thinking.(TEACHER'S TOOLKIT) Science Scope, 2015, Vol.38(7), p.78 [Peer Reviewed Journal] Bulgren, Janis ; Ellis, James.
The Effectiveness of Reason Racer, a Game Designed to Engage Middle School Students in Scientific Argumentation Journal of Research on Technology in Education, 01 January 2015, Vol.47(1), p.21-40 [Peer Reviewed Journal] Ault, Marilyn ; Craig-Hare, Jana ; Frey, Bruce ; Ellis, James D. ; Bulgren, Janis.
The Use and Effectiveness of an Argumentation and Evaluation Intervention in Science Classes Journal of Science Education and Technology, 2014, Vol.23(1), pp.82-97 [Peer Reviewed Journal] Bulgren, Janis ; Ellis, James ; Marquis, Janet.