SLANT: A Starter Strategy for Class Participation
---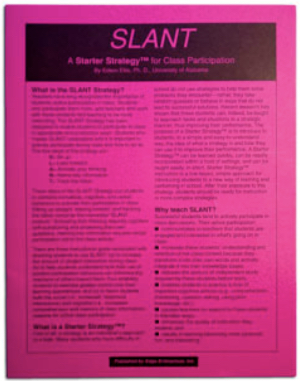 SLANT: A Starter Strategy for Class Participation is designed to enable students to participate in class in appropriate and productive ways. Students learn how to use appropriate posture, follow speakers, activate their thinking, and contribute information.
---
This product is available through Edge Enterprises, Inc.
Please note that professional development, coaching, and infrastructure support are essential components to effective implementation of SIM instructional tools and interventions. It is highly recommended that you work with a SIM professional developer. See the SIM Event list for sessions or email simpd@ku.edu to learn more.
---
Author(s): Edwin S. Ellis
Publication Info: Edge Enterprises, 1991
Resources:
An accessible version of the documents on this site will be made available upon request. Please contact the KU CRL Professional Development Research Institute, at simpd@ku.edu to request the document be made available in an accessible format.