Strategic Math: Place Value: Discovering Tens and Ones
---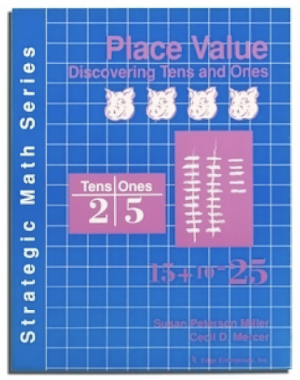 The Strategic Math Series focuses on how to teach basic math facts and operations to students of any age. Content is built upon the concrete-representational-abstract method of instruction. In this approach, understanding of mathematics is developed through the use of concrete objects, representational drawings, and an easy-to-learn strategy that turns all students into active problem solvers.
Place Value: Discovering Tens and Ones helps you teach students how to identify the number of tens and ones in a double-digit number using the concrete-representational-abstract method of instruction. The manual outlines specific teaching procedures and contains student tests, progress charts, learning sheets, and more.
In studies, students' scores rose from a pretest mean of 20 percent to a posttest mean of 88 percent. Their mean scores on place value tests were posttest--88 percent; maintenance test--97 percent; and retention test--96 percent.
---
This product is available through the KUCRL Shop.
Please note that professional development, coaching, and infrastructure support are essential components to effective implementation of SIM instructional tools and interventions. It is highly recommended that you work with a SIM professional developer. See the SIM Event list for sessions or email simpd@ku.edu to learn more.
---
Author(s): Susan Peterson Miller, Cecil D. Mercer
Publication Info: Edge Enterprises, 1993
Resources:
Research Articles

Miller, S., & Strawser, S. (1996). Promoting strategic math performance among students with learning disabilities. Learning Disability Forum, 21(2), 34-40. This article provides suggestions for classroom teachers who want to integrate strategy instruction into their math curriculum by discussing a strategic classroom environment and strategic learners.
More in the Strategic Math Series
An accessible version of the documents on this site will be made available upon request. Please contact the KU CRL Professional Development Research Institute, at simpd@ku.edu to request the document be made available in an accessible format.