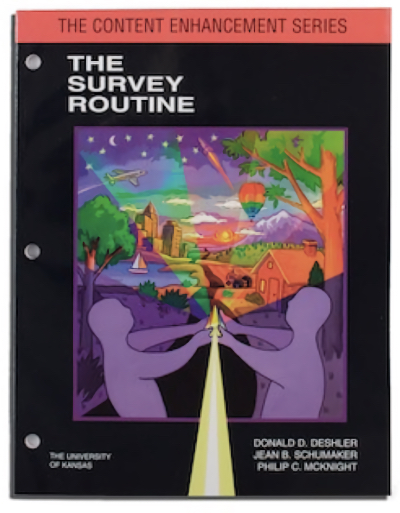 Teacher use of the Survey Routine helps students prepare for reading assignments by making students aware of the main ideas associated with the passage to help them focus on the most important information as they read. The routine helps students analyze the structure and key content of a passage by discussing its title, predicting content, identifying its relationship to other passages in the unit of study, naming its main parts, identifying key information, and paraphrasing a summary of the passage.
In studies, students answered an average of 10 percent to 15 percent more of their test questions correctly when the Survey Routine was used that when it was not. These results were seen with all students, including those with learning disabilities and other low-achieving students as well as average- and high-achieving students.
Please note that professional development, coaching, and infrastructure support are essential components to effective implementation of SIM instructional tools and interventions. It is highly recommended that you work with a SIM professional developer. Please email simpd@ku.edu to learn more.
The Survey Routine Research
Author(s): Donald D. Deshler, Jean B. Schumaker, and Philip C. McKnight
Publication Info: University of Kansas, 1997
This product is available through the KUCRL Shop.  Professional development is recommended, see the SIM Event page for sessions.
Research Articles
Lenz, B.K., Bulgren, J.A., & Hudson, P. (1990). Content enhancement: A model for promoting the acquisition of content by individuals with learning disabilities. In T.E. Scruggs & B.Y.L. Wong (Eds.), Intervention research in learning disabilities (pp. 122-165). New York: Springer-Verlag. This book chapter discusses information processing and pedagogy for students with learning disabilities, including suggestions for teacher planning and teaching routines such as the Chapter Survey Routine, Concept Teaching Routine, and Assignment Completion Routine.