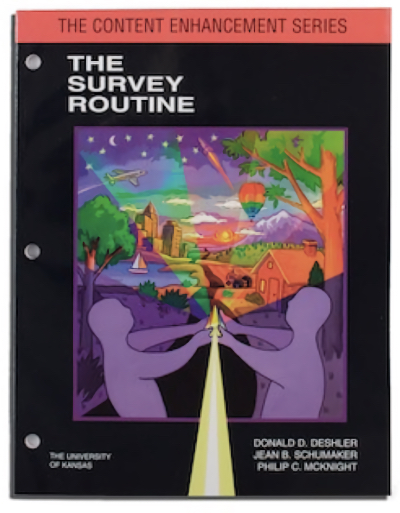 Teachers use the Survey Routine to construct an overview of a reading assignment when students are having difficulty reading and sorting out information from inconsiderate text.

Students whose teachers taught them how to use the Survey Routine had significantly higher overall test scores than when it was not used. All students answered an average of 10% to 15% more test questions correctly in studies with students with LD and those with low, average, and high course grades in grades 7-12.
---
Please note that professional development, coaching, and infrastructure support are essential components to effective implementation of SIM instructional tools and interventions. It is highly recommended that you work with a SIM professional developer. Please email simpd@ku.edu to learn more.
---
Author(s): Donald D. Deshler, Jean B. Schumaker, and Philip C. McKnight
Publication Info: University of Kansas, 1997
This product is available through the KUCRL Shop.  Professional development is recommended, see the SIM Event page for sessions.
Research Articles
Lenz, B.K., Bulgren, J.A., & Hudson, P. (1990). Content enhancement: A model for promoting the acquisition of content by individuals with learning disabilities. In T.E. Scruggs & B.Y.L. Wong (Eds.), Intervention research in learning disabilities (pp. 122-165). New York: Springer-Verlag. This book chapter discusses information processing and pedagogy for students with learning disabilities, including suggestions for teacher planning and teaching routines such as the Chapter Survey Routine, Concept Teaching Routine, and Assignment Completion Routine.