The Teaching Decision-Making Routine
---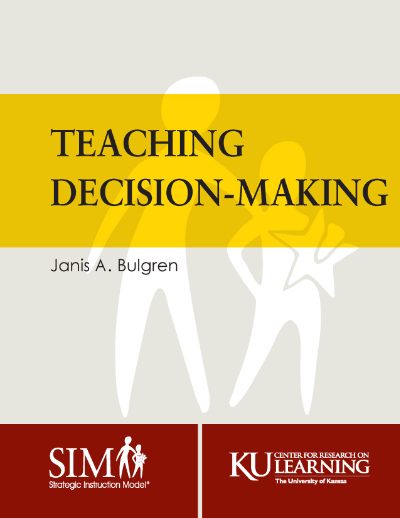 Teachers use the Decision-Making Routine to engage students in reasoning about an issue, options or responses, required knowledge, reasons to support each option, and to evaluate, judge, and rank options, propose alternatives, and make and explain their decision.

Students whose teachers used the Decision-Making Routine had significantly higher overall post-test scores than pretest scores --almost twice as large as scores in the comparison group. Data also suggested that students in 7th and 8th grade science and social studies experimental classes could transfer use of the strategy to a different content area in which the teacher had not used the routine in that classroom.
---
Please note that professional development, coaching, and infrastructure support are essential components to effective implementation of SIM instructional tools and interventions. It is highly recommended that you work with a SIM professional developer. See the SIM Event page for sessions or email simpd@ku.edu to learn more.
---
Resources:
Read more about Teaching Decision Making (.pdf).
Available for download or in a coil bound manual from the KUCRL Online Store. 
An accessible version of the documents on this site will be made available upon request. Please contact the KU CRL Professional Development Research Institute, at simpd@ku.edu to request the document be made available in an accessible format.