The Teaching Decision-Making Routine
---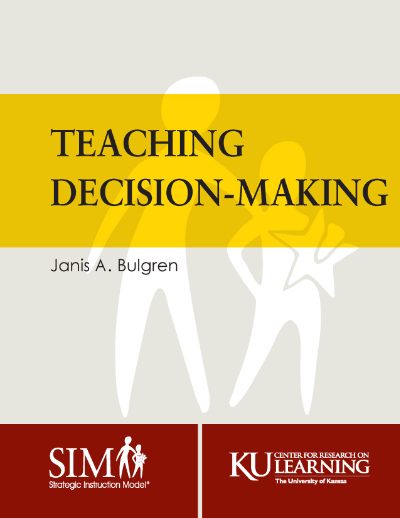 New in 2018, Teaching Decision-Making is the latest addition to the list of Content Enhancement Routines.  The manual contains a set of instructional materials and methods that teachers can use to help students engage in higher order reasoning when thinking about an issue that may have more than one option, or way to respond. In this process, students and teacher engage in a range of high-level reasoning skills. Examples of such skills may be referred to as critical thinking, analysis, synthesis, evaluation, judgment, etc. Teacher and students identify an issue and possible options that could be used to respond to the issue. The process enables students to clearly state an important issue, explore possible options, understand necessary background knowledge about the issue, identify and analyze reasons to support each option, evaluate, judge and rank each option, propose compromises or alternatives, and come to a decision, explaining the reasoning that led to that decision.  Read more about Teaching Decision Making (.pdf).
Please note that professional development, coaching, and infrastructure support are essential components to effective implementation of SIM instructional tools and interventions. It is highly recommended that you work with a SIM professional developer. See the SIM Event page for sessions or email simpd@ku.edu to learn more.
Available for download or in a coil bound manual from the KUCRL Online Store. 
An accessible version of the documents on this site will be made available upon request. Please contact the KU CRL Professional Development Research Institute, at simpd@ku.edu to request the document be made available in an accessible format.