The Visual Imagery Strategy
---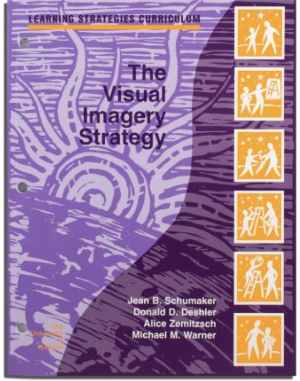 The Visual Imagery Strategy is a reading comprehension strategy for creating mental movies of narrative passages. Students visualize the scenery, characters, and action and describe the scenes to themselves as they read each sentence in a passage. Students use the strategy to improve their understanding and recall of specific facts and sequences.
In research studies, students showed average gains of 51 percentage points in reading comprehension of grade-level materials after they mastered the strategy.
---
This product is available through the KUCRL Shop. 
Please note that professional development, coaching, and infrastructure support are essential components to effective implementation of SIM instructional tools and interventions. It is highly recommended that you work with a SIM professional developer. See the SIM Event list for sessions or email simpd@ku.edu to learn more.
---
Author(s): Jean B. Schumaker, Donald D. Deshler, Alice Zemitzsch, and Michael M. Warner
Publication Info: University of Kansas, 1993
Resources:
Strategram Vol. 6, No. 6: Introducing The Visual Imagery Strategy (.pdf)
Strategram Vol. 7, No. 5: Visual Imagery Bookmark (.pdf)
Strategram Vol. 10, No. 5: Hands on Visual Imagery (.pdf)
Strategram Vol. 11, No. 5: Visual Imagery activity, Terry Slockett Freese (.pdf)
RESEARCH ARTICLES
Schumaker, J.B., Deshler, D.D., Woodruff, S.K., Hock, M.F., Bulgren, J.A., & Lenz, B.K. (2006). Reading strategy interventions: Can literacy outcomes be enhanced for at-risk adolescents? Teaching Exceptional Children, 38(3), 64-68. In two studies, students who learned reading strategies outperformed students who did not.
Clark, F.L., Deshler, D.D., Schumaker, J.B., Alley, G.R., & Warner, M.M. (1984). Visual imagery and self-questioning: Strategies to improve comprehension of written material. Journal of Learning Disabilities, 17(3), 145-149. Two learning strategies, Visual Imagery and Self-Questioning, designed to increase reading comprehension were taught to six students with learning disabilities using a multiple baseline across strategies design on several outcome measures.
An accessible version of the documents on this site will be made available upon request. Please contact the KU CRL Professional Development Research Institute, at simpd@ku.edu to request the document be made available in an accessible format.