The Vocabulary LINCing Routine
---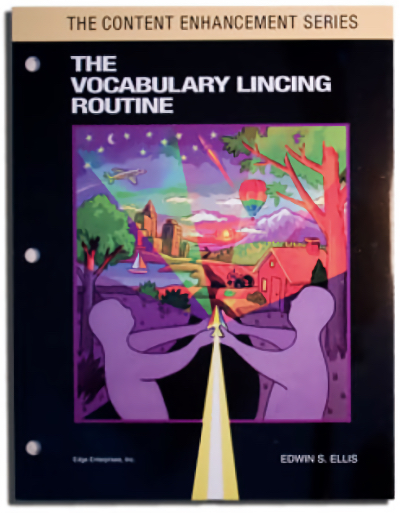 Author(s): Edwin S. Ellis
Publication Info: Edge Enterprises, 2001
The Vocabulary LINCing Routine is designed to facilitate student use of two powerful tools, an auditory memory device and a visual memory device that will help them learn and remember the meaning of complex terms. Research results showed that students, including those with LD, improved their performance by an average of 19 percentage points on vocabulary tests.
---
Resources
Coaching the LINCing Routine Case Study (.pdf)
Example Goals for the LINCing Routine (.pdf)
Vocabulary LINCing Routine Research (.pdf)
---
Please note that professional development, coaching, and infrastructure support are essential components to effective implementation of SIM instructional tools and interventions. It is highly recommended that you work with a SIM professional developer. Please email simpd@ku.edu to learn more.
This product is published by Edge Enterprises, Inc.  Professional development is recommended, see the SIM Event page for sessions.
An accessible version of the documents on this site will be made available upon request. Please contact the KU CRL Professional Development Research Institute, at simpd@ku.edu to request the document be made available in an accessible format.