The Word Identification Strategy
---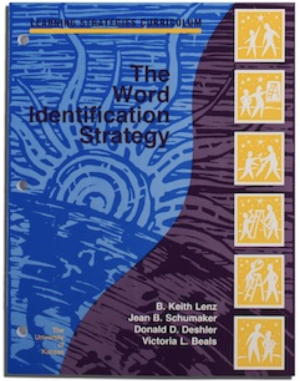 The Word Identification Strategy provides a functional and efficient strategy to help challenged readers successfully decode and identify unknown words in their reading materials. The strategy is based on the premise that most words in the English language can be pronounced by identifying prefixes, suffixes, and stems and by following three short syllabication rules.
In a research study, students made an average of 20 errors in a passage of 400 words before learning this strategy. Having learned the Word Identification Strategy, students reduced their errors to an average of three per 400 words. Reading comprehension increased from 40 percent on the pretest to 70 percent on grade-level passages.
---
There are multiple products associated with this strategy. Instructor materials are available through the KUCRL Shop.  Student materials are published by Edge Enterprises, Inc. 
Please note that professional development, coaching, and infrastructure support are essential components to effective implementation of SIM instructional tools and interventions. It is highly recommended that you work with a SIM professional developer. See the SIM Event list for sessions or email simpd@ku.edu to learn more.
---
Author(s): B. Keith Lenz, Jean B. Schumaker, Donald D. Deshler, and Victoria L. Beals
Publication Info: University of Kansas, 1996
Resources:
Strategram Vol. 7, No. 3: Prefix Power Game - Marsha Pearsaul and John Pfeifer (.pdf)
Strategram Vol. 7, No. 5: The DISSECT Rap by Lauren Henry (.pdf)
Strategram Vol. 8, No. 1: The Suffix Slide Activity - Janet Tate and John Pfeifer (.pdf)
Strategram Vol. 11, No. 3: Games, activities, handouts and song: Strategic teachers share classroom ideas (.pdf)
Strategram Vol. 12, No. 3: A Sweet Activity for Practicing DISSECT - Karen Koskovich, Word ID Cue Card for High School Students - Sue Woodruff (.pdf)
Strategram Vol. 14, No. 3: Recommended reading: Passages for Paraphrasing and Word ID (.pdf)
Strategram Vol. 18, No. 3: Tips and Activities for Word ID (.pdf)
Strategram Vol. 19, No. 3: Word ID Tic Tac Toe (.pdf)
Research Articles
Schumaker, J.B., Deshler, D.D., Woodruff, S.K., Hock, M.F., Bulgren, J.A., & Lenz, B.K. (2006). Reading strategy interventions: Can literacy outcomes be enhanced for at-risk adolescents? Teaching Exceptional Children, 38(3), 64-68. In two studies, students who learned reading strategies outperformed students who did not.
Woodruff, S., Schumaker, J. B., & Deshler, D. D. (2002). The effects of an intensive reading intervention on the decoding skills of high school students with reading deficits. (Research Report No. 15). Lawrence, KS: University of Kansas Center for Research on Learning.
Lenz, B.K., & Hughes, C.A. (1990). A word identification strategy for adolescents with learning disabilities. Journal of Learning Disabilities, 23(3), 149-158, 163. A multiple baseline across subjects design was implemented using five measures on the Word Identification Strategy with adolescents who have learning disabilities.
An accessible version of the documents on this site will be made available upon request. Please contact the KU CRL Professional Development Research Institute, at simpd@ku.edu to request the document be made available in an accessible format.