The Word Mapping Strategy
---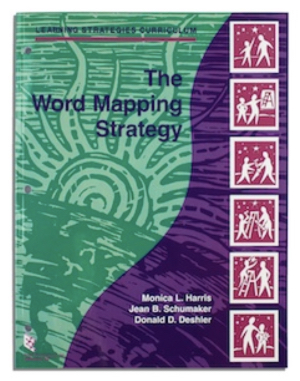 The Word Mapping Strategy helps older students learn how to predict the meaning of unknown words. Students learn to identify prefixes, suffixes, and roots and practice predicting the meaning of words using those parts. They also learn to use four strategic steps to identify the parts of a word, determine the meaning of those parts, and predict the meaning of the word.
In a study involving 230 high school students enrolled in general education English classes, students were randomly assigned to receive instruction in the Word Mapping Strategy, to receive instruction in the LINCS Vocabulary Strategy, or to receive traditional vocabulary instruction. The study showed that students who have been taught the Word Mapping Strategy can learn the meaning of vocabulary words when they use the strategy and can predict the meaning of significantly more words than students who use another similarly powerful vocabulary strategy. When researchers measured the students' ability to predict the meaning of unknown words, results showed significant differences between the posttest scores of students with disabilities in the Word Mapping group and those in the LINCS group or the traditional instruction group. Significant differences also were found between students without disabilities in the Word Mapping group and those in the LINCS group or the traditional instruction group. Word Mapping students earned an average of 61 percent of the points available on the prediction test compared to an average score of 24 percent earned by LINCS students.
---
This product is available through Edge Enterprises, Inc.
Please note that professional development, coaching, and infrastructure support are essential components to effective implementation of SIM instructional tools and interventions. It is highly recommended that you work with a SIM professional developer. See the SIM Event list for sessions or email simpd@ku.edu to learn more.
---
Author(s): Monica L. Harris, Jean B. Schumaker, and Donald D. Deshler
Publication Info: Edge Enterprises, 2008
Resources
Strategram Vol. 21, No. 5, August, 2009: Word Mapping (.pdf)
Overview Video:
Research Articles
Harris, M.L., Schumaker, J.B., & Deshler, D.D. (2011). The effects of strategic morphological analysis instruction on the vocabulary performance of secondary students with and without disabilities. Learning Disability Quarterly, 34, 17-33. In this study, students were able to learn two vocabulary strategies--Word Mapping and LINCs--and were able to apply Word Mapping to analyze and determine the meaning of unknown words.
An accessible version of the documents on this site will be made available upon request. Please contact the KU CRL Professional Development Research Institute, at simpd@ku.edu to request the document be made available in an accessible format.