Community Building: Focusing Together
The Community Building Series was designed to help students learn important skills that can turn every classroom into a true learning community where all students are sincerely interested in one another, actively work to help each other learn, and all members feel valued for what they can contribute. They feel safe and protected, and are able to take risks as learners. They feel connected to one another. As a result, negative interactions and bullying are minimized, and students who need help and support can receive it within the structure of the class. In this series, students learn confidence and competence-building skills associated with participating and working with partners and the concepts of respect, tolerance, and a learning community.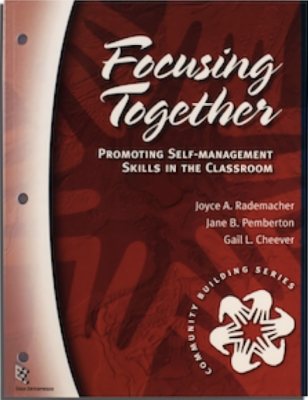 Focusing Together is an instructional program that promotes self-management skills in association with a set of classroom expectations that defines responsible work habits, respect, and emotional and physical safety. Students learn how to live by a set of learning community expectations; how their choice of whether or not to abide by those expectations affects their personal power; and how to follow a self-management strategy for staying on task when they must work independently or in small groups.
In research studies, students in experimental classes reduced the number of off-task behaviors during the time they were expected to work independently (from a mean of 21 to a mean of 4.5 per 45-minute period; comparison class means were 21.9 and 18.3). Students in experimental classes were more pleased with the classroom management procedures used by their teachers. Teachers in experimental classes reported a 72 percent reduction of rule infractions, while comparison teachers reported no change. Teachers in experimental classes also were more satisfied with the program and their students' behavior.
---
This product is available through Edge Enterprises, Inc.
Please note that professional development, coaching, and infrastructure support are essential components to effective implementation of SIM instructional tools and interventions. It is highly recommended that you work with a SIM professional developer. See the SIM Event list for sessions or email simpd@ku.edu to learn more.
---
Author(s): Joyce A. Rademacher, Jane B. Pemberton, and Gail L. Cheever
Publication Info: Edge Enterprises, Inc.
Resources: